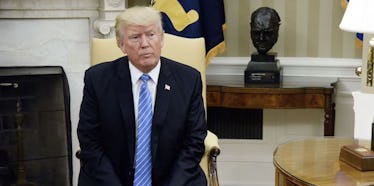 A One-Piece Bathing Suit With Donald Trump's Face Exists And It's All Kinds Of Nope
Olivier Douliery-Pool/Getty Images
It's not often I associate the beach with horror and doom. Jaws aside, summertime activities are generally, in my mind, light-hearted. Fun, even.
Summer is a safe space. It's a time for splashing around in the water. It's a time for wearing cute bathing suits, laying out. Summer is not a time for nightmarish sartorial choices.
And, I'd say, summer is certainly not the time for a one-piece bathing suit with Donald Trump's gaping maw splashed across the front and back.
And yet.
This summer, something shocking has happened.
How to even begin?
California-based Beloved Shirts went and did it. They slapped a horrifyingly enlarged image of the 45th President of the United States looking downright gobsmacked onto one of their handmade, one-piece bathing suits.
It's such a repulsive image, it has probably elicited reactions like, "How?" and "Why?" and "Get the kids to the bunker, Deborah."
And it's definitely, uh, affecting the good people of Twitter:
I mean, Trump supporter or no, I wonder what would make you want to rock an enlarged photo of his craggy, orange face, the utter shock in his eyes, while you're trying to relax, or, like, you know, meet people? For what purpose? To make children cry?
But if you are, for whatever reason, interested in the swimsuit, it's on sale for $50. So you can have Trump's giant, shocked face on your body for $50.
If you want to spend some cash on a novelty bathing suit, why not get one of Beloved's pizza bathing suits? Or one with donuts? Hell, even the 10-years-too-late Borat suit seems a better choice.
I would much rather be subjected to "my wife" jokes in 2017 than have to gaze upon Trump's best impression of the shocked emoji while trying to get my tan on.
But maybe that's just me.