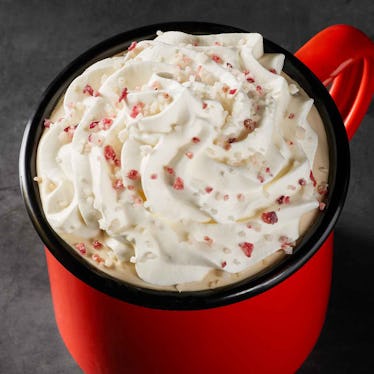 Starbucks' Newest Holiday Drink Is Here & Twitter Is Really Getting Into The Spirit
If you have a little trouble mustering up your holiday spirit when this time of the year rolls around, you can always stop by Starbucks to remedy that. With their holiday cups and seasonal holiday drink offerings, you'll be feeling festive AF in no time. This year, the coffee company is introducing a new seasonal sip that will have you "fa la la la"-ing well into the new year. Just check out these tweets about Starbucks' Toasted White Chocolate Mocha
According to the Starbucks website, this new holiday drink is available beginning today, Nov. 9, in Starbucks stores in the U.S. and Canada. So, what will you get when you order this new creation? To start, you will get caffeine, because the Toasted White Chocolate Mocha has espresso poured over a toasted white chocolate mocha sauce, steamed milk, and then it's all topped off with whipped cream and candied cranberry sugar. Sounds like the perfect post-ice skating companion.
The Toasted White Chocolate Mocha could also complement Starbucks' new seasonal food offering, the Candy Cane Whoopee Pie, really well. Then again, it's hard to go wrong with chocolate cake and peppermint icing. Also, the Toasted White Chocolate Mocha sounds so good (and festive!) that I bet it would pair really well with just about anything.
Apparently Twitter agrees, because there is no shortage of praise for Starbucks' latest creation.
A Toasted White Chocolate Mocha in a new holiday cup does sound "pretty great."
Oh, you can also get one for free to share with your bestie when you go to Starbucks' Give Good Share Event this week. Just make sure you hit up Starbucks between 2 p.m. and 5 p.m. to take advantage of this holiday cheer.
I think it will "change lives" in the best way possible.
There's a good likelihood that you'll finish your Toasted White Chocolate Mocha and immediately begin spreading joy and goodwill.
Seriously, you guys, people are just not the same after drinking this.
If that tweet immediately makes you want to run to the nearest Starbucks to get your hands a Toasted White Chocolate Mocha, that's perfectly acceptable.
"Heavenly" seems pretty accurate when describing a drink that's topped with whipped cream and candied cranberry sugar.
OK, now you probably really want to go get one, and I do not blame you at all.
If you were looking to ways to improve your Target excursions, it looks like Starbucks has found the answer.
I honestly didn't think that Target could be any more amazing, but I have a feeling holiday shopping is going to be a lot tastier this season.
Oh, you can also get the Toasted White Chocolate Mocha as a Frappuccino.
If hot and/or blended drinks aren't your thing, no worries, the Toasted White Chocolate Mocha is available in an iced version as well.
News of the Frappuccino version really brightened people's day. (I believe that all caps is a sign of great happiness here.)
"What a day," indeed.
"Damn good" is good enough for me.
I really hadn't thought of getting it as a Frappuccino before, but now I don't think my holidays will be complete without one.
I'm sure by now that you'd agree you "HAVE" to try it, too.
Who knows? It could be your new holiday favorite.
Go ahead and give the Toasted White Chocolate Mocha a try — I promise your beloved Peppermint Mocha won't get upset. Plus, I'm sure there's room in your heart (and stomach) to give all the holiday drinks at Starbucks their time to shine this season.
Check out the entire Gen Why series and other videos on Facebook and the Bustle app across Apple TV, Roku, and Amazon Fire TV.