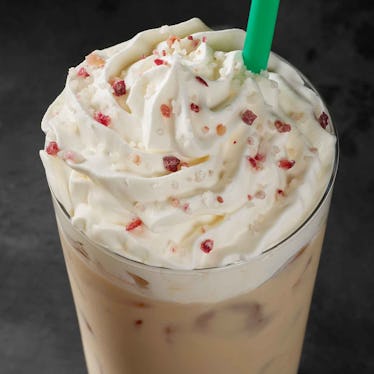 Starbucks' Toasted White Chocolate Mocha Won't Be Here All Year, So Have A Sip This Season
Starbucks
On Thursday, Nov. 9, Starbucks debuted its new holiday drink, the Toasted White Chocolate Mocha. But, as with most of the coffee chain's wondrous seasonal beverages, it won't be here forever. Wondering just how long Starbucks' Toasted White Chocolate Mocha will be available? Keep reading to find out everything we know — straight from Starbucks.
In a press release announcing the exciting new drink, Starbucks gave a few drool-inducing details about its festive chocolate flavor and said that — since it's a holiday release — customers will be able to get their hands on the Toasted White Chocolate Mocha throughout the holiday season while supplies last.
What Is The Toasted White Chocolate Mocha Exactly?
Starbucks describes the drink as having a toasted white chocolate mocha sauce base with a shot of their signature espresso poured overtop, which gives it a rich and creamy texture. Beverage development team member Erin Marinan detailed the company's motivation behind creating a toasted version of their classic White Chocolate Mocha. They said,
When thinking about a new holiday beverage, we started with the idea of gifts from the heart, and how traditional recipes often become gifts to share. Chocolate is a part of many holiday traditions; it is also a wonderful complement to our signature espresso roast. We took white chocolate and applied a culinary twist by slowly roasting white chocolate to brown the cocoa butter and caramelize the milk and sugar. This deepens the flavor, makes it more complex and brings out toasted nutty notes that linger as you sip the beverage.
In addition to the epic wintry flavors that come with each sip, Starbucks also tops the Toasted White Chocolate Mocha with a cheery topping including whipped cream and candied cranberry sugar. "The tartness of the sugared cranberries complements the creamy toasted white chocolate and adds a bling of holiday color," Marinan said. So good.
Again, the Toasted White Chocolate Mocha is only available while supplies last throughout the holiday season in the U.S. and Canada. You can order it hot, iced, or as a frappuccino if your heart so desires. But guess what? It's not the only limited edition bev Starbucks debuted this season.
Starbucks Even More Holiday Beverages
There's also a new chai latte — perfect for those who aren't super into coffee — called the Chestnut Praline Chai Tea Latte, pictured above, at participating stores across the U.S. and Canada. Basically, it's a regular chai tea latte sweetened with pumps of chestnut praline syrup and topped with spiced praline crumbs. "The spices in the chai pair perfectly with the caramelized chestnut notes, creating a warm and comforting beverage full of holiday flair," Starbucks said in their release.
The Toasted White Chocolate Mocha and the Chestnut Praline Chai Tea latte join Starbucks' veteran roster of holiday drinks, six of which are back on the menu for a limited time this season. Besides the two newbies, customers can also order the Crème Brulée Latte, the Chestnut Praline Latte (different from the chai tea version), the Peppermint Mocha, the Eggnog Latte, the Holiday Spice Flat White, and the Gingerbread Latte. Gah, so many good choices — what's a girl to order first?
I don't know about you, but the fact that Starbucks is celebrating with such a lengthy list of seasonal offerings makes me feel extra festive. And don't even get me started on the chain's customizable holiday '17 cups, which are an ode to adult coloring books and ready to be colored-in. OBSESSED.
Check out the entire Gen Why series and other videos on Facebook and the Bustle app across Apple TV, Roku, and Amazon Fire TV.