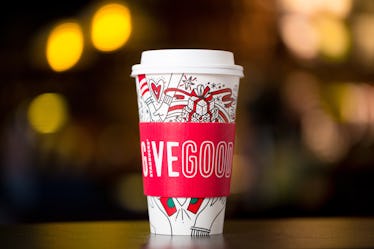 You Can Get Your Holiday Cheer On With Some Free Starbucks Drinks For A Few Days
There's nothing like a seasonally-themed beverage to really put you in the holiday spirit, and nobody does holiday offerings like Starbucks. Seriously, once you've had a sip of a Peppermint Mocha, you won't be able to go back to regular coffee until the new year. Starbucks is doing its best to make this holiday season extra special, and I'm sure you'll agree once you find out how to get a free Starbucks holiday drink with the Give Good Share Event.
The holidays are the perfect time to think about reconnecting with friends and family, and Starbucks is here to make that so easy for you to do. Beginning Nov. 9 through Nov. 13, Starbucks is presenting the Give Good Share Event, according to a press release emailed to Elite Daily from Starbucks. During those dates, when you buy a holiday beverage at participating Starbucks stores between 2 p.m. and 5 p.m., you'll receive another holiday beverage (of equal or lesser value) for free. Oh, and according to the email, the offer also includes all cake pops in U.S. Starbucks locations (yum!).
If you're not in the holiday mood yet, take a look at the "Starbucks Holiday 2017 — Togetherness" YouTube video. Gwen Stefani singing You Make It Feel Like Christmas should help ignite some holiday cheer in you.
In today's fast-paced world, it can be difficult to make time for the people that mean so much to you. When the holidays roll around, there is a big emphasis on spending quality time with friends and family, and now Starbucks has presented the best opportunity for you to grab your favorite holiday beverage and catch up with your oldest pals.
I don't know about you, but when there's a free drink on the line, I am definitely making sure to pencil that in my calendar. Plus, this sounds like the perfect opportunity to call up mom and schedule a coffee date. It's the least you can do to make up for all of those unreturned phone calls.
Is the bestie you've been neglecting because of work more of a tea drinker? Not a problem. Starbucks holiday offerings aren't exclusive to coffee (see: cake pops). The deal also includes their Teavana Joy Brewed Tea. So, you can order up a Chestnut Praline Latte while your pal can sip on the holiday tea. Really, there is no excuse not to take advantage of the Give Good Share Event.
If you've been a regular at Starbucks during the holiday season in years past, you might notice something a little different this year when you meet up to reconnect with loved ones over some coffee. The iconic holiday red cup is no more. This year, Starbucks introduced new holiday cups, and they are helping to spread their message of "Give Good" (via the red sleeve adorned with the saying) this holiday season. Don't worry about the new cup design affecting the flavor of your favorite sips, though, because the holiday drink offerings are still as delicious as ever.
The new holiday cups are also a great way to connect with whomever you choose to share a holiday drink with during the Give Good Share Event because they are meant to be decorated by you. In an explanation of the new holiday cup on the Starbucks website, Starbucks creative director Leanne Fremar said, "This year's cup is intentionally designed to encourage our customers to add their own color and illustrations." When you have art, holiday beverages, and reconnecting with your closest friends and family, how could you go wrong?
Send out a Google calendar invite to your constant phone-tag partner now, so you don't miss out on this chance to celebrate the holiday season together.
Check out the entire Gen Why series and other videos on Facebook and the Bustle app across Apple TV, Roku, and Amazon Fire TV.