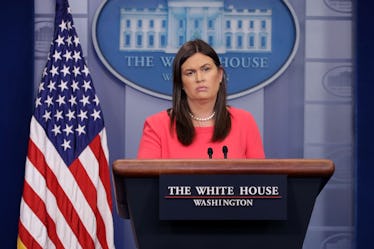 Sarah Sanders Is Rumored To Be Leaving The White House & Twitter Has A Lot To Say
Chip Somodevilla/Getty Images News/Getty Images
Well, another two bite the dust (maybe). The Trump administration isn't a stranger to goodbyes, but these two departures might take the cake. According to reports, Sarah Huckabee Sanders and Raj Shah are leaving the White House and considering the history of the White House staff turnover, Twitter had a lot to say. These tweets about Sarah Sanders supposedly leaving the White House prove that partings are such sweet sorrow — but yeah, I'm not surprised.
On June 13, CBS News reported that Press Secretary Sarah Huckabee Sanders and Principal Deputy Press Secretary Raj Shah are planning to exit the White House. According to CBS News, Sanders plans to leave her position as press secretary at the end of the year while Shah is also considering leaving but hasn't set a date. If true, it would clearly be a harsh blow for the Trump administration. Not only have Sanders and Shah been two of the most visible faces in the White House, but they've also been two of Trump's most loyal staffers throughout Trump's presidency. The White House did not immediately return Elite Daily's request for comment on the subject.
Sanders addressed the reports in a tweet that came out after CBS's initial story. She wrote,
Does @CBSNews know something I don't about my plans and my future? I was at my daughter's year-end Kindergarten event and they ran a story about my 'plans to leave the WH' without even talking to me. I love my job and am honored to work for @POTUS
Can you blame people for believing this? At this point, it's almost amusing how many staffers have left the White House since last year. According to a March report from The Brookings Institute, the Trump administration has set a record breaking turnover rate among staffers, standing at 51 percent turnover rate.
To be honest though, is a staffer leaving the White House even considered news anymore? Nevertheless, upon hearing the reports about Sanders and Shah, Twitter had plenty to say.
Not everyone bought the "denial," either.
On June 13, a source spoke to CBS News about the recent White House departures. According to the source, there will be "even more people leaving" in the near future. Uh-oh.
The source said,
There will be even more people leaving the White House sooner rather than later, laid off or just leaving out of exhaustion. And it is going to be harder to find good people to replace them. I do think they're going to have a harder time getting the second wave of people in than the first, because those people were loyalists, and [new] folks will have to be recruited and encouraged and then survive the vetting process. In addition to all of that, the president prefers to have a small communications staff.
Well, it's good news that the president "prefers" a smaller communications staff since it doesn't really seem like he's going to get another option at the moment.
The idea of Sanders and Shah reportedly leaving their White House roles truly feels like losing two major characters in my favorite television drama, though. Sanders and Shah are just two of the many White House press members of Trump's presidency. Prior to Sanders, Sean Spicer served as press secretary in 2017 and the memes that were birthed were glorious. And then of course there was Anthony Scaramucci, who served as White House communications director for less than two weeks in the summer of 2017 before getting the boot. And even Trump favorite Hope Hicks, who took over the communications director position after Scaramucci, had to bow out. Honestly, if I were Sanders, I'd be running away from that lecturn rather than quietly stepping down.
Good luck out there you two. You'll probably need it.