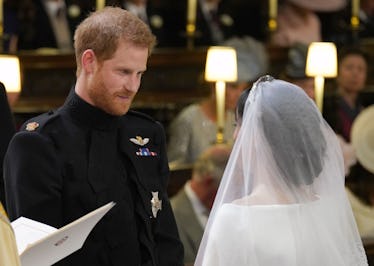 Prince Harry Bit His Lip When He Saw Meghan Markle & Sorry, I'm Melting
WPA Pool/Getty Images Entertainment/Getty Images
Amidst all the romance of the royal wedding, one unforgettable moment stands out to me in particular that shows just how in love Prince Harry and Meghan Markle are. I'm talking about the now-iconic moment at the wedding altar when Prince Harry whispered "You look amazing" to his future bride and stopped the hearts of women everywhere. Luckily, social media is here to capture all the sweet details that we might have otherwise overlooked, and it's revealing another totally sexy detail about that whole sweet encounter for us to obsess over. The tweets about Prince Harry biting his lip when he saw Meghan Markle are here, and they're so relatable, TBH.
In the age of modern dating where most of us can't seem to even get a text back, Prince Harry has been setting the bar extra high. Even if I wasn't already completely envious of Meghan Markle's fairytale life as a royal, Prince Harry's heart-melting gestures during their wedding day prove that she's really about to live her happily ever after.
Right now, it's not surprising that the eagle-eyed Twitterverse has been scanning all of the newlyweds' interactions and overanalyzing their body language, especially one super sensual move from Prince Harry that's honestly making me feel hot and bothered. Because if your man doesn't bite his lip at you, is he even your soulmate?
The incident reportedly occurred when Prince Harry was whispering sweet nothings to his bride, telling her, "You look amazing" as they prepared to exchange their vows. Turns out, the prince accentuated that statement with a lip bite for the books, and Twitter is now a thirst trap.
Yes. Yes, we do.
All of us tomorrow, as we're nibbling on crumpets and booking flights to London.
I mean, that look in his eyes says everything.
Could a royal baby be on the way soon? That lip bite says yes.
I've said it once, and I'll say it again. If your "it's complicated" on-again, off-again hookup isn't biting his lip at you, it's definitely time to say "cheerio."
Justin Trudeau, who? It's Mr. Steal Your Girl, U.K. edition.
Prince Harry's lip bite seen around the world is only one of many subtle gestures today that have me believing in romance again.
My heart started to thaw out when he removed Markle's veil after the vows and while gazing into her eyes, and simply whispered, "Hi." It was full-on melting when he told her, "You look beautiful, " before adding, "I'm so lucky," according to Buzzfeed. Even the "Thank you, Pa" to Prince Charles after his father walked the former Suits actress down the aisle had me floored. Now, after this latest installment, I'm just feeling hot and bothered, and the only remedy is booking a trip to London immediately.
Honestly, should we even be surprised? It's no secret that the pair were packing on the PDA at the royal event. In an interview with Elite Daily, body language expert Susan Constantine revealed that the couple appeared to have a case of the butterflies during that moment. She said, "Harry raised [his] eyebrows in amazement of his beautiful bride."
Markle also reciprocated the love and cemented their connection during their time up at the altar. Constantine explained, "Meghan looks up with her bright eyes, saying here we are! [They are] locking eyes for the first time as a royal couple."
While Prince Harry might be officially off the market now (sorry, Twitter), the wedding festivities are far from over, and I'm predicting many more meme-worthy moments before the night is over.