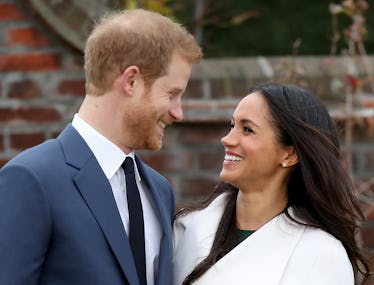 Prince Harry Is Officially Engaged To Meghan Markle & Hearts Are Breaking All Over Twitter
Chris Jackson/Getty Images Entertainment/Getty Images
What's that I hear? The sound of a million hearts breaking around the world? If you've been following along with Meghan Markel's IRL fairytale romance with Prince Harry, then chances are you've already heard the good news and stalked multiple social channels to get a peek at the bling. That's right, ladies, the royal redhead is officially getting married next spring, and tweets about Prince Harry being off the market are swarming social feeds left and right. Sure, we're all happy for the royal couple, but I do sense a little bitterness under all of these congratulatory characters.
Don't worry, guys — there's a happily ever after for everyone! And even if your partner doesn't don a shiny crown and live in a castle, true love means more than a royal title (right?). Personally, I was #TeamWilliam all the way, so while most teenage girls and their mothers sat moon-eyed around the television watching Will and Kate tie the knot, I wept. So, you see, I totally understand those of you mourning bachelor-no-more Harry (and the fact that Markle's shiny diamond isn't twinkling from your finger), but you have to give it to the guy. He's definitely grown up over the past few years and, as much as you might loathe to admit it, the two make a beautiful couple.
Despite the fact that these two are an adorable pair, Twitter is torn between happiness for the couple, and heartbreak over Harry.
Love means never having to wear "just in case" Spanx. Remember that.
There are so many fish in the sea!
Tragic.
LOL. So true.
This is me every Monday, whether a royal got engaged or not.
Please take that back.
Finding out the only coffee left in the office is decaf, missing your bus, getting hit by a bus... I could go on and on.
Now that's what I call looking on the bright side.
Definitely let me know how that works out for you.
Look at all of those crying emojis! Someone give this girl a hug.
I honestly love this so much.
LADIES WE WILL GET THROUGH THIS TOGETHER.
Still, plenty of people are wishing the couple well.
That forehead kiss though.
They really do make a gorgeous couple.
The couple has officially received congrats from the Kardashians!
Same!
They really are history in the making.
If your congrats isn't in all caps, do you even mean it?
This is definitely one royal wedding I'd stay up late to watch.
Maybe there'll be another royal baby on the way in 2019? Fingers crossed!
I couldn't agree more.
Whether you're mourning Harry's relationship status or celebrating the couple's engagement, everyone's thrilled to see Markle join the royal family.
Even though everyone's favorite royal redhead is officially off the market, I personally could not be more thrilled for the happy couple. Aside from the fact that true love in and of itself is reason enough to celebrate, allow me to call attention to the fact that their joining in holy matrimony is actually quite historical.
For one thing, according to The Irish Times, Markle is the first American to marry into the British royal family since 1937 when socialite Wallis Simpson said "I do" to the duke of Windsor. But in addition to being American, the actress will also be the first biracial woman to marry into the royal family. They may seem an unlikely pair on paper, but it just goes to show that love knows no labels, and doesn't have to go by the royal book.
Of course, we low-key hate to see Harry off the market, but if we have to stand by and watch our red-headed royal exchange vows with another woman, we're thrilled that woman is Markle. Congratulations to the happy couple! We'll be waiting (im)patiently for wedding details!