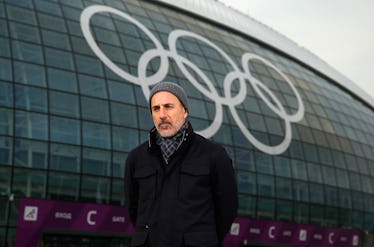 Matt Lauer Isn't At The Olympics & Twitter DGAF At All
Scott Halleran/Getty Images Sport/Getty Images
NBC has covered the Olympics for as long as I can remember. The Today Show team is always at the event without fail and I look forward it every two years. But there will be something noticeably missing from this year's Winter Games: one illustrious anchor that just had his career and public image fall into shambles due to sexual misconduct allegations. That one such anchor is former NBC poster boy Matt Lauer. His visible absence is something that we can't really not notice, and the tweets about Matt Lauer not being at the 2018 Olympics are pretty telling.
Lauer's career ended somewhat abruptly when he was fired from his post after allegations of sexual misconduct were reported to NBC. This came as a shock to many people who both worked with Lauer and everyone who watched him deliver the news every weekday from their homes. Lauer apologized "for the pain I have caused others by words and actions" in a statement and added, "some of what is being said about me is untrue or mischaracterized."
The 59-year-old anchor's career at NBC spanned three decades, and he was openly regarded as the face of the network. So his absence at the Olympics this year were very much noticeable, since this is the first time we're seeing the NBC team cover the games sans-Lauer.
Even though he wasn't there, many people were tweeting about Lauer.
And to be honest, it seems like nobody is really going to miss his presence all that much.
And people were absolutely loving seeing Lauer's former co-host Katie Couric taking over his place at the games.
Lauer's career with NBC officially ended on Nov. 29 2017, when his former co-host Savannah Guthrie read a statement written by NBC President Andrew Lack during the airing of the Today Show. Guthrie said,
On Monday night, we received a detailed complaint from a colleague about inappropriate sexual behavior in the workplace by Matt Lauer. It represented, after serious review, a clear violation of our company's standards. As a result, we've decided to terminate his employment.
The details of the initial complaint were not made explicit, but it was severe and serious enough to lead NBC to believe that this was not an isolated incident. A more detailed statement from NBC on the situation read as follows,
While it is the first complaint about his behavior in the over 20 years he has been at NBC News, we were also presented with reason to believe this may not have been an isolated incident. Our highest priority is to create a workplace environment where everyone feels safe and protected, and to ensure that any actions the run counter to our core values are met with consequences, no matter who the offender.
Since these subsequent announcements, multiple women have claimed that Lauer sexually harassed or abused them. One of the more disturbing claims that has come to be known is that Lauer allegedly had a secret button under his desk that locked the door in his office.
Lauer responded to the allegations following the announcement of his dismissal on Today, where he apologized for his actions. He released a statement via his public relations team and expressed, "sorrow and regret for the pain I have caused others by words and actions." But although he did offer this apology, Lauer also partially denied some of the allegations in a seemingly backhanded way. Lauer stated,
Some of what is being said about me is untrue or mischaracterized, but there is enough truth in these stories to make me feel embarrassed and ashamed.
So although it might be a little strange to not have Lauer on board at the Olympics this year, it's not at all surprising that people don't seem upset about his absence.