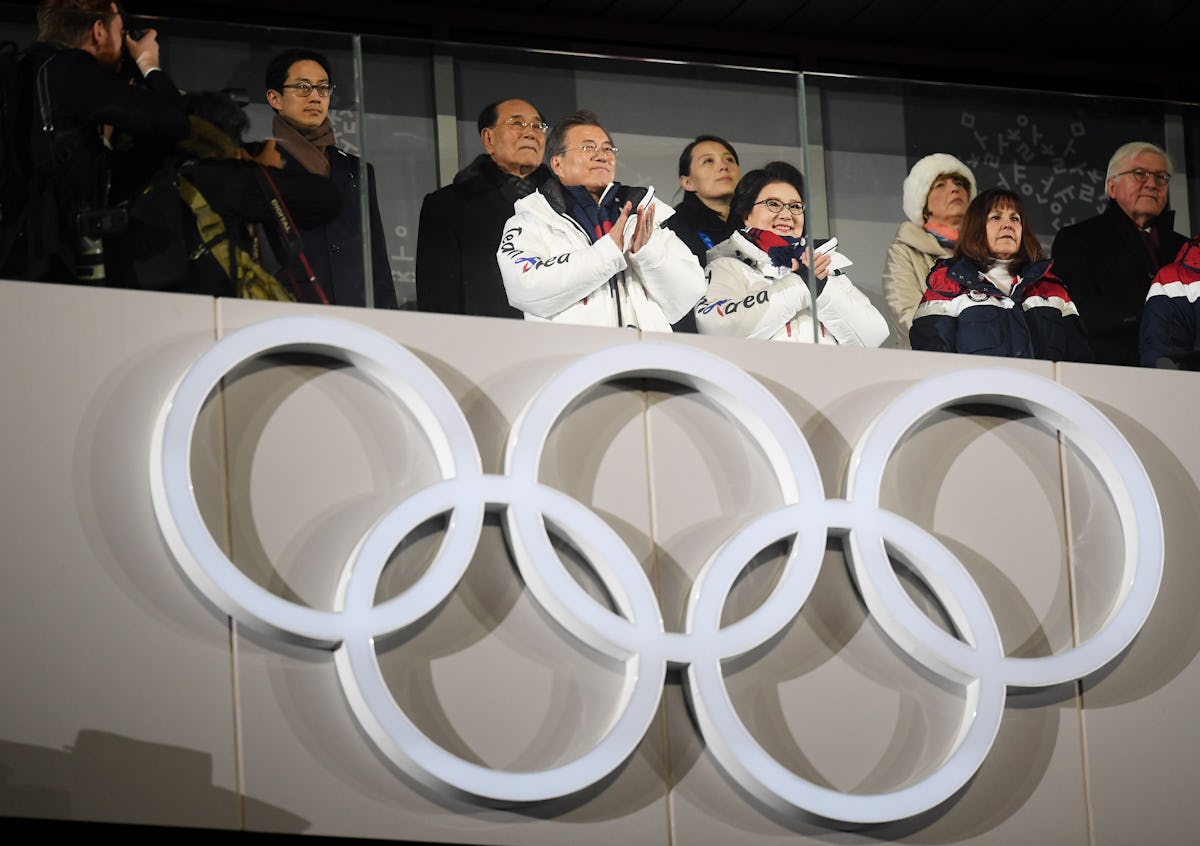 The 2018 Olympics Opening Ceremony Has Twitter So, So Pumped For The Games
Matthias Hangst/Getty Images Sport/Getty Images
If you're not asleep RN, you're most likely watching the Olympics Opening Ceremony, either in person in PyeongChang, South Korea, or on television. So whether you're braving the freezing cold, (bless), or if you're really, really cozy on your couch eating Oreos and drinking lots of coffee, (holla), here are tweets about the 2018 Olympics Opening Ceremony that say what all of us are thinking and feeling at this moment in time.
No matter how many times I've seen it, the Olympics Opening Ceremony is always — hands down — going to be one of the coolest things to watch... ever. I have never felt so culturally connected with so many other countries around the world at once, and watching our athletes participate in such an exciting event never fails to get me super pumped. It's super iconic, the Parade of Nations is so incredible (I mean, seriously, that tiger puppet was unreal), and it's just an overall upbeat, and somewhat moving event. I mean, this is coming from someone who cries every time they watch School of Rock (it's a really happy movie, OK?) but the Opening Ceremony just makes me unbelievably proud of our nations for coming together, for such an awesome event. And these tweets show that I'm not the only person getting a kick out of watching it.
So it seems to me like many of us are really loving each and every one of the athlete's fabulous outfits, the super upbeat K-Pop music, and pretty much everyone who's out there, getting hyped, and being the wonderful and athletic gods and goddesses that they are. The Olympic Opening Ceremony is overall a super happy time, everyone is looking beyond fantastic, and there's no denying that this is the pump-up music that we're seriously in need of right now, for some major early morning excitement. There are some of us watching the Opening Ceremony, however, who are feeling some other types of ways... and that is totally OK! Complaining on Twitter is something all of us have done at some point in time, and honestly, that's really what Twitter is actually for... am I right?
Also, if you haven't caught a glimpse Team USA's humungous gloves yet, they're, um, definitely a sight to see. While each Olympic athlete is looking simultaneously super fly and hella toasty, in their specially tailored Ralph Lauren outfits, each and every one of our team's gloves are freaking giant. Like, they're really, really hard to miss. Nobody on Twitter (myself included) is completely sure what to think of those huge AF babies, but the tweets about them seriously show that they have many of us saying, "Damn Daniel." So in the wise and (quite) eloquent words of former Viner Josh Holz, and also from Twitter user @bailsofhemp, "WHAT ARE THOSEEE?"
So, it's pretty likely that you're literally all for everything happening at the Winter Olympic Opening Ceremony RN, or there's a chance that something about it is honestly kind of rubbing you the wrong way... and for real, it might just be because it's extremely early and you can't even hang. which is 100 percent understandable. But regardless of how you're feeling about it, definitely make a point to tune in to stream at least a few minutes of the Winter Olympic Opening Ceremony, because it's definitely a unique and interesting cultural event for the books... and you'll totally get FOMO if you miss out. Just make sure to keep in mind that you won't get to experience this kind of awesome unity again for another four years. But in the meantime, we'll always have the tweets.