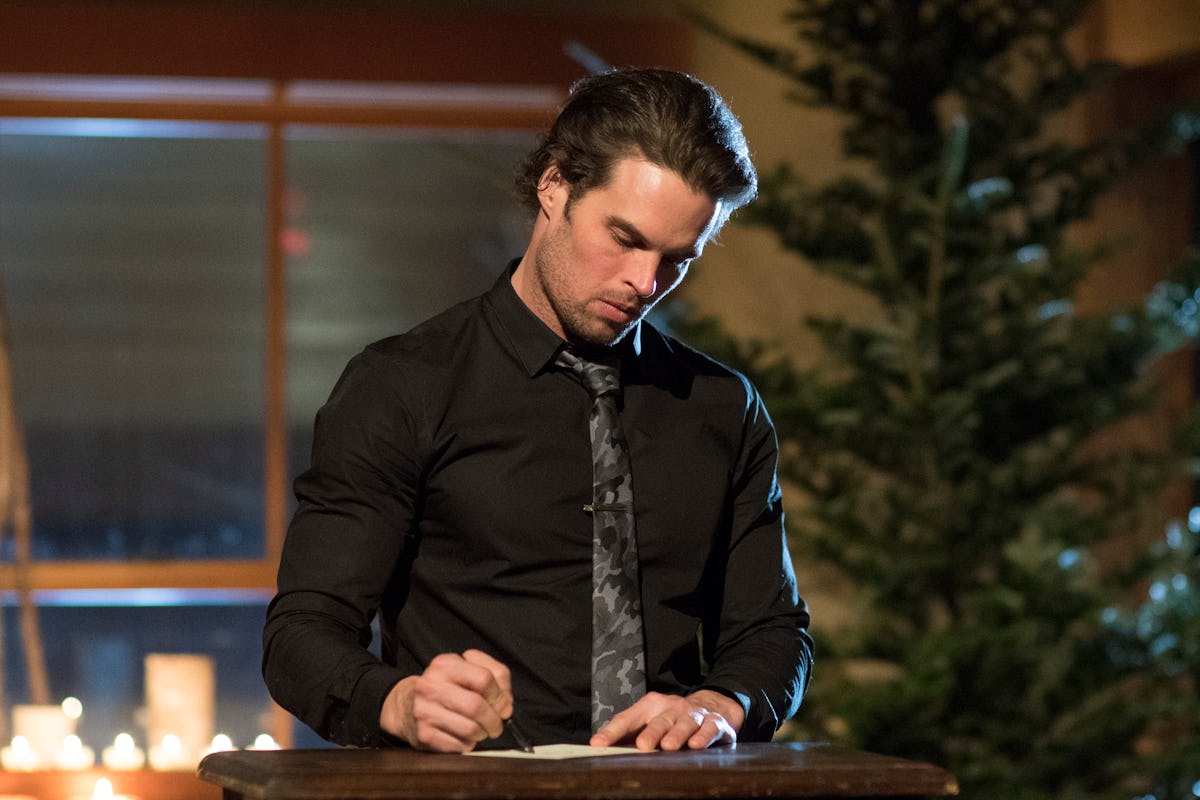 'Bachelor Winter Games' Fans Are Already Obsessing Over Kevin From Canada
ABC
Bachelor Winter Games is heating up, and there are already some stand out contestants. Kevin from Canada is creating quite a buzz in the house and in our living rooms. Tweets about Kevin on Bachelor Winter Games prove that fans are just as obsessed with him as Bibiana and Ashley I. are.
Who is Kevin and where has he been my whole life? Bachelor Winter Games is all about taking the franchise international. We didn't have to venture too north of the border to find Kevin.
The 33-year-old firefighter was actually the first person to win the inaugural season of Bachelorette Canada in 2016. Unfortunately, he and hairstylist Jasmine Lorimer split after just five months together. Jasmine announced the split via Instagram on April 13, 2017 with a photo of a majestic sunset. How poetic. The caption read,
There are no hard feelings between the two of us. Kevin is a fantastic person with a huge heart and holds so many incredible qualities. There's no straight forward way to sum this up into one paragraph, but I will never forget what a beautiful year we have shared. Nothing about this has been easy. We appreciate everyone's support.
One woman's breakup is another nation's new reality television obsession. Twitter is legitimately obsessed with this hunky contestant and his free-flowing hair.
It looks like Bachelor contestants around the world are definitely ready to take it international. In addition to the US delegation, Switzerland, Japan, Australia, New Zealand, the UK, Sweden, China, and Canada are all represented on the show.
While the mix of contestants are great to viewers, Winter Games contestant, Eric Bigger, told Elite Daily that all the options actually made things more difficult. After competing for one woman, Rachel Lindsay (aka THE woman), on The Bachelorette, Winter Games was a big change of pace. He said,
Winter Games is similar to Bachelor in Paradise, so you have options, which was not as easy, because then you've got to... initiate and create a relationship or figure out when and where to strike or who you connect with. And there are multiple women, so it was just different. So it forces you to think and have a different approach than just having one person, like Rachel was on my season with a bunch of other guys.
He continued,
There were so many different people, so if you didn't find someone right away that you connected with, then it was hard to lock in on someone... You had more options, and I believe less is more when it comes to dating. More energies, more options, there's more difficulty and there's a lot more challenges but different strokes for different folks. I just think more people... didn't make it better. It was a little more challenging.
Eric did admit to making a few great connections within the house during Winter Games. Even he had to do a little raving about Kevin and how nice of a guy he is. OK, WE GET IT. Eric said,
I just think what was quite interesting was that they're similar to us, as far as their show, finding love, and...the cultural difference when it comes to contestants like Yuki from Japan. You know, I watched her pray over her food, which was interesting... I met a guy named Kevin from Canada who's a firefighter. He talked about his life as a firefighter and the things you go through. I think what was intriguing was their personal stories and their relationship outside of the Bachelor Nation, outside of the TV, outside of the show. I think that was more intriguing than anything else I could imagine - the people themselves and their personalities and who they are from within and not for what we see on TV.
Honestly, Winter Games has far exceeded my expectations, and I can't wait to see what romance blooms.
Check out the entire Gen Why series and other videos on Facebook and the Bustle app across Apple TV, Roku, and Amazon Fire TV.