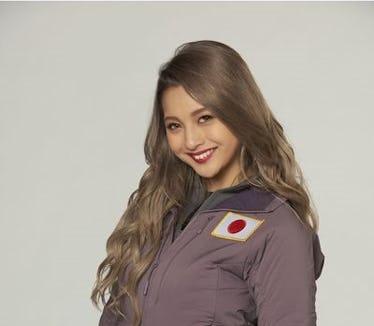 Here's The International Contestant You Need To Be Watching On 'Bachelor Winter Games'
If you've kept up with press leading up to The Bachelor Winter Games premiere, you probably saw the recent New York Times article discussing the new addition to the Bachelor franchise. Highlighting the challenges of welcoming international Bachelor stars onto the American spinoff, the article also focused on the doings of Japanese contestant Yuki Kimura, giving us the first major insight on an international competitor. Yuki revealed some questionable things about herself in the article, so we have to ask: Who is Yuki Kimura on Bachelor Winter Games?
Although we're still reeling from Bekah M. telling Arie she's only 22 in last week's Bachelor episode, Yuki is even younger at 21 years old. An alum of The Bachelor Japan, she joins New Zealand native Lily as the two youngest Winter Games participants. Given that the oldest Winter Games contestant is 37-year-old Michael, expect current Bachelor stars Chelsea and Caroline to pop out of a snowbank and cluck over Yuki's age as they did about Bekah's.
As revealed in the Times piece, Yuki knows little English and relied on a translator to deliver a message to fellow competitor and Bachelor in Paradise playboy Dean Unglert:
'Dean, please!' she cried out, breaking the near-silence. 'Me, rose!' In the control room, producers laughed approvingly. 'I need a ringtone of her,' one said. Over the next hour, Ms. Kimura, who wore a white tutu skirt for the occasion, proved to be a ringtone-worthy breakout.
Although Dean is rumored to now be with Winter Games star Lesley Murphy, Yuki may not only have eyes for him on the show. The article describes her as chatting with all of the men, making heart shapes with her hands, and asking them to teach her the English words for "nose" and "eyes." Her flirting may potentially rub the other women the wrong way:
She discussed music with another [man], chirping, 'Chainsmokers, No. 1!' when he inquired about her favorite band. Across the room, Jenny Helenius, a contestant from Finland, took in the scene. 'I am normally the loud one,' she murmured.
Yuki's claim to Bachelor fame comes from the first season of The Bachelor Japan, which aired last year and has been picked up for another season. A promo for the show doesn't offer English subtitles, but uses examples of other international Bachelor seasons to introduce the concept. Spoiler: dramatic rose ceremonies and bottomless champagne glasses are universal in any language.
We didn't get a close look at her face in the video, but my bet is that Yuki is the woman rocking the white tutu-esque outfit in her limo introduction. In a Japan Times feature, the show was revealed to also feature 25 women vying for Bachelor Hirotake Kubo, a 35-year-old entrepreneur. So, yes, Yuki was the Bekah of her season.
The Bachelor Japan, airing on the country's Amazon Prime Video service, highlighted notable cultural differences between Asia and the United States. The Japan Times reported:
While kissing and/or spending the night is entirely acceptable there, in Japan it's a big deal for the women to even touch Kubo. (They all ask his permission first.) If one ventures to kiss his cheek or give him a hug, the others, watching from another room, erupt in storms of jealousy. (Spoiler alert, and interesting cultural note: The bachelor's final choice remained demure and restrained throughout the series.)
While we don't know how Yuki behaved on her original season, her personality alone seemed to win over Bachelor franchise creator Mike Fleiss on Winter Games. Fleiss revealed to the Times that he would want to cast Yuki, as well as other international stars, on a future season of Bachelor in Paradise. Honestly, with so many of the same American contestants appearing on Paradise, it could definitely use some fresh faces.
Fleiss also explained that the international competitiors were often less filtered than American contestants concerned with their social media opportunities post-show. Clearly, international versions of the show haven't equated to the plentiful Instagram advertisements many of our favorite Bachelor people sink to. However, with a taste of what American Bachelor Nation is like, Yuki seems all in for more franchise appearances:
'I want to marry a man I meet on 'The Bachelor,' she said by email. 'Until that day comes, I will keep being on 'The Bachelor' [shows].'
Ohhh, honey.
For now, Yuki doesn't seem to be on social media, but I'm sure an account or two will pop up when Winter Games begins. With 26-year-old Dean being the closest man to Yuki's age, a love connection may not be in store for her, but I sense some amazing Yuki-themed memes coming our way.
The Bachelor Winter Games premiere Feb. 13 at 8 p.m. ET on ABC.