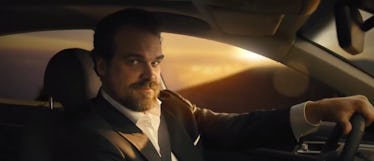 Tide's Super Bowl Commercial Features Hopper From 'Stranger Things' & Fans Love It
NBC
The Super Bowl often comes with many surprises — surprise guest performers at the halftime show, surprise wardrobe malfunctions during said halftime show, and of course, the occasional surprise upset by an underdog team looking to take home that huge Vince Lombardi trophy. But one thing that certainly won't be a surprise this year is the Tide commercial. America's favorite detergent always manages to come up with something fun and witty for their slated Super Bowl commercial, but tweets about the Tide commercial prove that this year's ad seriously blew us all away.
TBH, I'm not really surprised that this year's Tide commercial was such a huge hit. After all, once we found out that Stranger Things actor David Harbour, who plays Jim Hopper on the hit Netflix series, was going to star in the ad, it was basically impossible not to lose your sh*t. Hopper is easily one of the most lovable characters on Stranger Things, and in case you didn't already know, the man is freaking funny. Elite Daily recently had the amazing opportunity to invite Harbour to sit down for a little TV trivia with last year's Super Bowl Tide commercial star Terry Bradshaw, and I dare you to watch the video without giggling.
Harbour killed it in the Super Bowl's Tide commercial this year, and fans absolutely loved it.
It really was more clever than many of us were expecting, but that's what made Harbour totally perfect for the role.
People definitely loved the not-so-subtle nods to other popular Super Bowl commercials.
So, so, so well-played.
I love David Harbour in this commercial, but I'm also 100 percent down to see this as Tide's next star-studded ad:
It's pretty wild that Tide was able to top their hilarious commercial that aired during the 2017 Super Bowl, which featured football legend Terry Bradshaw on an epic quest to get rid of a stain on his shirt. Along the way, he ran out in a frenzy onto the football field, he sped through busy roads behind the wheel of a golf cart (side note: I really like that they put a "do not attempt" disclaimer in the corner of the screen, because it's the 21st century and we clearly need to be explicitly told not to drive a golf cart on a highway), and eventually, he crashed onto none other than actor Jeffrey Tambor's front lawn. Tambor cordially invited Bradshaw into his home, cleaned his stain up real quick with, of course, a little Tide detergent, and effectively saved Bradshaw from complete and utter humiliation on national television.
This year's Tide spot managed to make us laugh just as much, but in a totally different way. With Harbour spoofing so many of our fav commercials from the past — including Matthew McConaughey's super serious, but low-key ridiculously hilarious Lincoln MKZ commercials, as well as the always-entertaining Old Spice commercials — the humor was definitely very meta. But hey, I'm into it, and it seems like fans are, too.
This is definitely proving to be a good opportunity for Tide to reset the tone around their brand after dealing with so much BS the last several weeks about what we've now come to know as the "Tide Pod Challenge." For reasons that still don't quite make sense to me, young people were taking to social media to post videos of themselves eating Tide Pods — yes, just full-on poppin' those suckers into their mouths as if they were candy. And here I was, thinking 2018 might be better for all of us.
Anyway, being the genius AF brand that they are, Tide handled all this BS as smoothly as ever: With the help of fan-favorite New England Patriots football player Robert Gronkowski — aka Gronk — they put out a little PSA for consumers about how to actually use Tide Pods:
Together, Gronk and Tide made it very clear that, no, you shouldn't ever eat a Tide Pod, and no, you still shouldn't do it even if it's for the sake of a joke that you plan on posting to the internet. For what it's worth, even if you were still going to try and pop detergent into your mouth, capture the moment on camera, and attempt to post it online, most social media platforms would likely remove the video before it even had a chance to circulate. Seriously, we are all looking out for your best interest here, guys. Listen to Gronk, and just don't do it, OK?
And, if I had to guess, David Harbour probably doesn't want you to eat Tide Pods either, and can you really deny that handsome face of his? Yeah, I didn't think so.