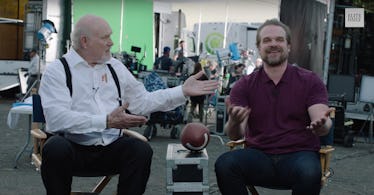 Hopper From 'Stranger Things' Played Elite Daily TV Trivia & Here's How He Did – EXCLUSIVE
Elite Daily
Jim Hopper definitely knows how to get to the bottom of things in Hawkins, Indiana, and it turns out, David Harbour is the same way with TV trivia. The Stranger Things actor will be starring in a Super Bowl commercial for Tide this year, which is super exciting because Tide isn't only cleaning up as a detergent, but also in creating really fun Super Bowl commercials over the past few years. During his commercial shoot, Elite Daily got Harbour and last year's Tide commercial star — Terry Bradshaw — to compete in a game of TV trivia, and the competition got fierce.
To test their pop culture knowledge, Elite Daily asked David Harbour and Terry Bradshaw eight questions about TV. Since Bradshaw has been an on-air commentator and actor since retiring from the NFL and Harbour stars on one of the biggest shows right now, a little TV quiz should be no problem for them, right? Well... some questions turned out to be harder for the duo than others (who doesn't watch Game of Thrones!?), and they definitely began showing their competitive side once the game got close. But in the end, Harbour managed to beat out Bradshaw by a single point! Check out the hilarious video of the TV quiz below:
Seriously, David Harbour? "Someone Lannister?" Somebody needs to get these guys an HBO subscription stat, so they can start bingeing Game of Thrones before its final season in 2019. Although I guess that could have been kind of a trick question, since we all found out that Jon Snow's real name is actually [SPOILER ALERT] Aegon Targaryen. At least Harbour knew that Spongebob Squarepants' best friend is "a starfish with hands" (that's close enough to Patrick Star, we figured). I think my favorite part, though, was after Terry Bradshaw said he didn't know what Orange Is the New Black is, and Harbour shot back, "You don't watch Netflix?" That question really was kind of a gimme for Harbour, since OITNB is part of his Netflix family.
If you thought David Harbour was charming in this little TV quiz, then you are definitely going to want to look out for his Tide commercial, which will air during Super Bowl LII on Sunday, Feb. 4. The details of the commercial are being kept quiet, but judging from the laundry detergent giant's past Super Bowl ads and how hilarious Harbour is, the new commercial is bound to be one of the standouts of the night. Last year, Terry Bradshaw starred in Tide's ad spot, setting out on an epic quest to get a stain out of his shirt with some help from Rob Gronkowski and Jeffrey Tambour.
This TV trivia is just a glimpse of the humor we've seen recently from David Harbour. The Stranger Things star has also become an internet sensation after his breakout role as Hawkins Chief of Police. He hilariously posed for senior photos with a fan after she got more than 25,000 retweets on a tweet asking him to join her for the high school photoshoot. Even more recently, Harbour got more than 200,000 retweets on a plea to Greenpeace to take him to Antarctica to dance with the penguins, so he will be living out that awesome dream soon enough.
But before he sets off on that chilling penguin-dance expedition, you can catch David Harbour during Super Bowl LII, when he stars in Tide's new commercial for this year's big event. Make sure you tune in — a cleaner clean is coming.
The 2018 Super Bowl between the Philadelphia Eagles and reigning champions the New England Patriots will take place at 6:30 p.m. ET, Sunday, Feb. 4 on NBC.