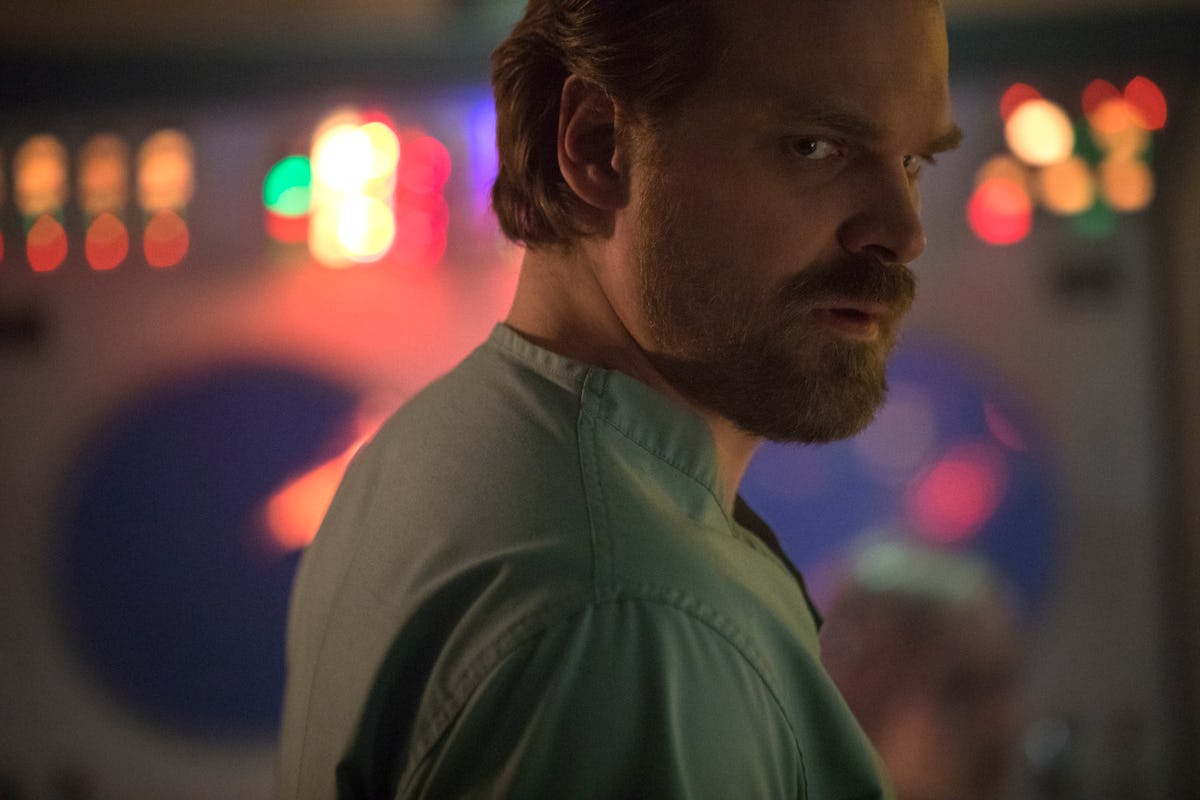 Hopper From 'Stranger Things' Is Going To Dance With Penguins, Thanks To Twitter
Netflix
Stranger Things was a surprise hit when it arrived on Netflix in 2016, reviving the career of Winona Ryder and launching that of Millie Bobby Brown. But perhaps the biggest surprise of the show has been the rise of David Harbour, who plays Hawkins' Chief Hopper. Since his 2017 speech at the SAG Awards denouncing Trump, he's become a fan favorite both on and off screen. Now David Harbour's tweet about penguins has brought us something else unexpected: the chance to see him head to Antarctica.
There used to only be one way to be famous back in the day. An actor signed with a studio, giving producers the right to promote their name and likeness however they saw fit, for the opportunity to make movies for a living. Today there are many ways to be "actor" famous. There are the ones who toil their way until they break in A list fame, but who never really live a lavish lifestyle. (think Dame Helen Mirren.) There are those who see hitting A-list level fame as an opportunity to make real money in endorsements. (Think Jon Hamm's voice overs in endless car commercials, or Emilia Clarke, wearing Chanel makeup and Dior dresses.) And some see it as an opportunity to do good in the world. (Think J.K. Rowling and her charity initiatives.)
Then there are those like Harbour. He spent decades trying to break into the business, hanging around the fringes watching others make it big, like his now ex-girlfriend Julia Stiles, only to fall right back off a few years later. He knows this level of fame is fleeting, and that when Stranger Things ends (probably after Season 4 or 5 at most) he'll be back to square one.
That's why he's been living his celebrity life to the fullest, "man of the people" style. If you're a fan, and you want him to come make an appearance? All it takes if getting X amounts of retweets on Twitter, and he's there. He's popping up in yearbook photos and officiating weddings so far.
And fans are totally loving it.
But this week, something different happened. It started on Saturday, when Greenpeace tweeted out that it was Penguin Awareness Day. There are currently 18 species of penguins in the world, ten of which are endangered by the threat of climate change, including the Galapagos Penguin, the African Penguin, the Northern Rockhopper Penguin, the Erect-crested Penguin and the Yellow-eyed Penguin.
The most famous species of penguin, the Emperor Penguin, from the Disney film March of the Penguins, is listed as "Near Threatened," with a population that's managed to stabilize for now, but could begin a serious decline as the ice sheets that make up the south pole continue to melt at the current pace.
David Harbour was inspired and decided to see if for once instead of someone getting enough retweets to make him do something, what if he got enough tweets to help out a larger cause?
Greenpeace agreed to the challenge, and set the amount of RTs needed.
In response, Harbour put out a plea to his fans. The chances of him falling off the moving walkway of fame when Stranger Things ends is high. A trip to Antarctica to dance with penguins, and bring awareness to climate change while the going is good? It doesn't get much better than that.
Twitter gave back. Within five hours, Harbour had his 200K RTs and counting.
Greenpeace promised to make good on their word, and had a few tips on how to dress for the occasion.
Ladies and gentlemen, Chief Hopper is going dancing.
We can't *wait* to see the videos. Meanwhile, Stranger Things Season 3 is on track to return to Netflix in late 2018 or early 2019.