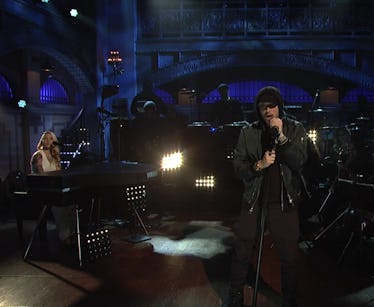 Eminem Performs Three Songs On 'SNL' & Twitter Isn't Exactly Sure How To Feel
The Real Slim Shady is at it again. On Nov. 18, the rapper took the stage alongside Skylar Grey to perform his new hit, "Walk on Water," and two fan favorites: "Stan," and "Love the Way You Lie." However, tweets about Eminem's SNL performance prove that viewers weren't quite sure what to make of the nine-minute mashup.
This late-night act definitely put the 45-year-old rapper in a new light. Backed by strings and a band, Eminem rapped as Grey — who co-wrote "Walk on Water — sat behind the piano and filled in for each song's guest: Beyoncé ("Walk on Water"), Dido ("Stan"), and Rihanna ("Love the Way You Lie"). The artist who once shocked parents across the country with his outrageous lyrics seemed to take on a more subdued persona, but still sought to deliver a powerful message.
Eminem's appearance was highly anticipated, given the fact that he has been so quiet about his upcoming album, rumored to be titled Revival. Between a Beyoncé collab, help from longtime pal Dr. Dre, and songs co-written with Grey — whom the rapper considers "one of the most amazing writers," according to Complex — fans were certainly curious about his new work. His time on SNL definitely steered listeners in a new direction, but also gave longtime fans a blast from the past.
Some people are totally into Marshall Mathers' "revival."
Others, however, were not in favor of Eminem's performance.
Though there are mixed messages on his SNL performance — and no word as to when his first album in four years is actually going to drop — one thing is absolutely for certain: Eminem has a lot to say about politics. Earlier this year, the rapper unloaded on President Donald Trump, and his freestyle viral video touched on everything that's happening in politics today. He raps:
But this is his form of distraction
Plus he gets an enormous reaction when he attacks the NFL
So we focus on that instead of talking Puerto Rico or gun reform for Nevada
All these horrible tragedies and he's bored and would rather cause a Twitter storm with the Packers.
Eminem had no shortage of complaints against Trump, from the #TakeAKnee NFL debate, to treatment of Vets, to issues of gun control — definitely all valid issues. People were curious if this was a whole new look for the Real Slim Shady, who is no stranger to backlash against harsh lyrics. Just to be clear for anyone who was uncertain about his viewpoints, Eminem ended his freestyle with this:
And any fan of mine who's a supporter of his
I'm drawing in the sand a line
You're either for or against
And if you can't decide who you like more
And you're split on who you should stand beside, I'll do it for it for you with this: F*ck you.
Naturally, SNL is no stranger to addressing Washington happenings. During the Nov. 18 episode (hosted by Chance the Rapper) the hilarious Kate McKinnon returned to one of her popular roles as Attorney General Jeff Sessions, poking fun at his "memory issues." Making quite the splash upon meeting with Colin Jost during "Weekend Update," our beloved Sessions said, ""When I say 'I do not,' you say 'recall.'"
Ready? "I do not..."
McKinnon also added another character to her growing repertoire: Julian Assange. Assange met with Donald Trump Jr. (Mikey Day) and Eric Trump (Alex Moffat) to dig up dirt on Hillary Clinton, but not before Eric revealed that Assange looked like Draco Malfoy. Without question, there were plenty of political statements during SNL's Nov. 18 episode.
Fans might be taking sides when it comes to Eminem's performance, but they can all agree that sometimes political turmoil needs a little levity... and Kate McKinnon.