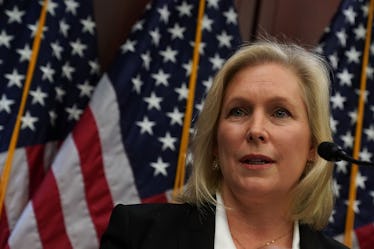 Donald Trump's Tweet About Kirsten Gillibrand Was Really Not OK
Alex Wong/Getty Images News/Getty Images
On Tuesday, Dec. 12, President Donald Trump tweeted about Senator Kirsten Gillibrand. He was tweeting in response to Democratic politicians' call for him to resign because of the litany of sexual misconduct allegations made against him. (The White House's official stance is that women making accusations against Trump are lying, and Trump called the accusations "false" and "fabricated" on Twitter.) Rather than targeting Democrats at large for their calls for him to resign, Trump targeted Gillibrand in particular, which many found intriguing, and his tweet about her was, frankly, offensive.
"Lightweight Senator Kirsten Gillibrand, a total flunky for Chuck Schumer and someone who would come to my office 'begging' for campaign contributions not so long ago (and would do anything for them), is now in the ring fighting against Trump. Very disloyal to Bill & Crooked-USED!" the president tweeted on Tuesday morning.
Many people took offense to Trump's tweet because of the insinuations present, pointing out that it could be read as a derogatory sexual innuendo against the senator. (Elite Daily reached out to the White House for comment on the intention of the president's tweet and did not receive a response at the time of publication.)
Trump's tweet apparently comes in response to Gillibrand's interview with CNN's Christiane Amanpour on Monday, Dec. 11. Gillibrand told Amanpour, "President Trump has committed assault, according to these women, and those are very credible allegations of misconduct and criminal activity, and he should be fully investigated and he should resign." (Elite Daily reached out to Gillibrand's office for comment on the tweets and did not receive a response at the time of publication.)
Gillibrand's comments came as 56 female Democratic lawmakers submitted a letter to Republican Trey Gowdy, the House Oversight Committee Chairman, and ranking member Elijah Cummings, a Democrat, asking for the committee to investigate allegations of sexual misconduct made against the president.
"You cannot silence me or the millions of women who have gotten off the sidelines to speak out about the unfitness and shame you have brought to the Oval Office," Gillibrand, who has long been an advocate for sexual assault survivors, wrote in a tweet in response to Trump on Tuesday.
Although Gillibrand is more than capable of defending herself, many took to Twitter to speak up on her behalf and call out the president for his tweet.
People questioned what, exactly, Trump meant in his tweet.
Many fellow politicians came to Gillibrand's defense.
And still other people on Twitter wondered where the female members of the Trump family were.
Ultimately, Gillibrand herself again stood up to the president in a press conference on Tuesday.
"I see [the tweet] as a sexist smear," Gillibrand said. "It's part of the president's effort at name-calling, and it's not going to silence me; it's intended to silence me. It's not going to silence the women who have stood up to him against him directly, and it's not going to silence the millions of women out there who have been speaking out every day since his inauguration about things they disagree with."
Trump has been accused of multiple instances of sexual misconduct by at least 16 women. The accusations initially arose in October 2016, following the release of the infamous Access Hollywood tape. The women who accused the president of misconduct have been speaking up again in light of the conversations (and consequences) around #MeToo. They are doing this in the hopes that this time around, Trump will face consequences.
"We cannot ignore the multitude of women who have come forward with accusations against Mr. Trump," the 56 female Democratic lawmakers said in their letter calling for an investigation into allegations against Trump. "With that said, the President should be allowed to present evidence in his own defense."
Tuesday, on Twitter — before his tweet about Gillibrand — Trump wrote that the discussions about allegations of his conduct are a political attack. He tweeted, "Democrats have been unable to show any collusion with Russia. So now they are moving on to the false accusations and fabricated stories of women who I don't know and/or have never met."
In fact, Trump has met many of the women who have made accusations against him, including Summer Zervos, who was a contestant on The Apprentice, Natasha Stoynoff, who profiled him for People magazine, and several Miss USA contestants.