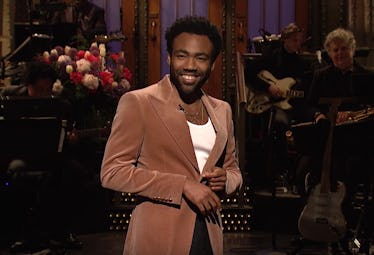 Twitter Is Stanning Donald Glover On 'SNL' & You Have To See What He Can Do
Saturday Night Live returned with a new episode on May 5, and the show tapped Donald Glover as both the host and musical guest (as Childish Gambino). Glover revealed in his monologue that he had twice auditioned to be a cast member on SNL before his hosting gig on Saturday night. With that new bit of information out in the open, Glover went on to show the audience all that he could do. After jokingly "failing" at a few skills in the monologue, Glover proceeded to excel at his hosting duties. His fans were loving it, and these tweets about Donald Glover hosting SNL prove just how much they enjoyed it.
Glover said in his monologue that some people refer to him as a "triple threat" because he's "an actor, a writer, and a singer," but Glover then said, with a slight smirk across his face, "But I like to call myself just a threat." Glover starred on the show Community, created and stars in FX's Atlanta, and performs music as Childish Gambino. Whether you think he's "a triple threat" or "just a threat," Glover proved on Saturday night that he has the talent to be both. Not only did Glover bring the laughs in multiple sketches, but he also performed as Childish Gambino — and he even debuted a brand new song.
From the looks of the episode, Glover put a lot of work into Saturday's show — and his fans definitely noticed.
One of the viewers' favorite skits was "A Kanye Place," which is a spoof on both the horror film, A Quiet Place, and Kanye West's return to Twitter. Playing on the plot of the film where people are in danger of being killed when they speak too loudly, Glover's character tries to remain quiet while also keeping up with West's recent tweets about supporting President Trump, claiming slavery was a choice, and even attending Chrissy Teigen's baby shower.
Fans on Twitter were cracking up at Glover and the sketch as a whole.
Some expert Glover fans seemed to recognize facial expressions from Glover's character on Community, Troy Barnes.
Chrissy Teigen even chimed in to share how thrilled she was to be mentioned in an SNL skit. She called it her "buzzer beater feeling." In the skit, Glover shares a photo that apparently shows West at Teigen's baby shower, and Cecily Strong asks in a whisper, "Did Chrissy Teigen cook anything?" to which Glover replies in a surprised whisper, "Gumbo."
Glover didn't only spend his hosting time on Saturday giving comedic performances that proved he probably should have been cast for the show when he auditioned. He also shared the musical stylings of Childish Gambino when he debuted his new song, "Saturday," according to OnSmash.
People were very much here for Glover slaying the hosting and musical performances.
Seriously, people were delighted by Glover's SNL episode, and many people on Twitter even went on to posit that Glover is creative in a way that Kanye West thinks he is (harkening back to the "A Kanye Place" skit). After West's controversial tweets, some people called it a publicity stunt to promote his new music.
Conversely, many people on Twitter praised Glover/Childish Gambino for his high quality performances all throughout the show on Saturday night.
With all the glowing reviews pouring in on Twitter, it seems like Glover's SNL episode was definitely a hit with viewers of the show. While this was only Glover's first time hosting the show, I think plenty of people would be happy with an encore performance of Glover on SNL. Fingers crossed!