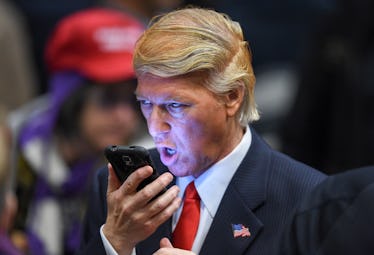 These Trump Tweet Costume Ideas Will Guarantee Your Scariest Halloween Yet
ROBYN BECK/AFP/Getty Images
If there's one thing you can bank on during Halloween in Donald Trump's America, it's that there will be no shortage of Trump costumes floating around. The "Make America Great Again" Trump was easily the most popular Trump-centric costume last year. But this year, why not get a little more creative and channel possibly the scariest thing to happen in 2017 — President Trump's Twitter feed. So what better way to celebrate the spookiest weekend of the year than by making one of these Trump tweet costumes.
I mean truly, what is scarier than checking Twitter and seeing the poorly-planned policy, threats and more our current president is sending out to the world in 140 characters or less. So while all the Pennywise costumes might look scary, these costume ideas are the scariest of all for one very overwhelming reason — they're real.
Trump's Tweets
This costume idea is easy and most straightforward. All you have to do is dress in all-black, and attach printouts of Trump tweets all over your outfit. You can attach them using safety pins or using clear duct tape — whichever way is easiest for you.
You can make the costume a bit more creative by choosing a specific topic or issue and choosing tweets that are related to that topic, like his NFL protest tweets.
With the volume of tweets that the president pushes out on a daily basis, there's no shortage of options and routes you can take with this idea.
Or you can make the above costume even simpler and choose a Trump tweet referencing North Korea to print out — easily the scariest tweets we've seen from Trump to date. Watch everyone shudder at the sight of such an irresponsible statement coming from the leader of the free world. Scary/dark makeup optional.
You'll need: Duct Tape ($8.09) or Safety Pins ($7.99), a friend with a color printer.
Create-Your-Own Trump Tweet
This costume requires a bit more of a time commitment. The idea is to print out a bunch of phrases that appear in Trump tweets and have you or your friends create ridiculous tweets out of them. What you'll need is a medium-sized white poster board, to create the frame for your tweet. You'll want to draw out or print what a tweet from Trump would look like, leaving the 140 character space blank. Either attach a piece of string on either side of the poster and hang around your neck, or tape it to your shirt using clear duct tape.
Next, using blank index cards, write out phrases that would make for funny tweets when combined. Here's a sample list of ideas to get you started:
It's so sad.
America
It's terrible!
The Establishment
lies.
No leadership!
The NFL
has
should be ashamed.
Big problem!
Mexico
Crooked Hillary
After writing however many index cards you want, use Velcro sticky circles to attach the cards onto your outfit, surrounding the blank tweet. Stick some sticky dots onto the blank tweet so that you can mix and match the different index cards to make up tweets as ridiculous (or more) as Trump's.
You'll need: White Poster Board ($6.99), Duct Tape ($8.09) or String ($4.99), Assorted Sharpies ($5.47), Blank Index Cards ($4.99), Velcro Sticky Circles ($4.22).
"Trump Tweeter" Couple's Costume
The perfect Trump tweet inspired costume idea for a couple. One of the two dresses up as Trump himself. Buy a Trump mask or a Trump-style wig, pick up an ill-fitting suit from a thrift shop and throw on a red tie to complete the look. The other half of your duo dresses up as the Twitter bird by dressing in all blue and white and making a cutout of the bird to attach to yourself.
Don't forget to include Trump's handle on the front with his favorite hashtags, like this couple did. Only speak in Trump's broken Twitter language all night for bonus points!
You'll need: Thrifted ill-fitting black suit (MP), Trump Mask ($9.99) or Trump Wig ($18.99), Red Tie ($5.99), Baby Blue Poster Board ($15.99), a friend with a color printer.
The "Covfefe" Tweet
The tweet heard 'round the world! #Covfefe was easily one of the most ridiculous and meme-worthy tweets from Trump this year. Luckily, there are multiple different dresses that you can purchase to dress up as "Covfefe" for Halloween.
Did anyone ever decide on what it actually means? Serious question.
"Covfefe" Dresses are $40-46 each on redbubble.com.
Blocked By Trump
There is no shortage of people that Trump has blocked from his Twitter feed since he took office. Everyone from Chrissy Teigen to Stephen King has been cut off by the POTUS. For this costume, choose anyone that Trump has blocked from this list of names, dress up as them, and print a copy of this to attach to your costume:
You'll need: Whatever you need to dress as your blocked person, Duct Tape ($8.09), Scissors ($4.79), a friend with a printer.
Ghost of Trump's Deleted Tweets
Even though it has been decided that as the president, Trump should not be deleting his tweets as most are classified as public record, he does so consistently without regard to his post. Well, now you can create a costume that brings those tweets back up from the dead.
Get a standard plain white bed sheet and cut two holes out for your eyes — classic ghost costume. Then screen grab from this list of Trump's deleted tweets and attach them all over your ghost so that they can come back to haunt Trump. Because as we all know, the internet is written in ink, not pencil.
You'll need: a White Bed Sheet ($12.99), Scissors ($4.79), Safety Pins ($7.99), a friend with a printer.
While there will be plenty of AHS killer clowns and all sorts of terrifying costumes roaming the streets this weekend, any one of these Trump tweet costumes is sure to win any scariest costume contest. Because nothing is more frightening than the painful reality that after all the Halloween celebrations, Trump will still be president.