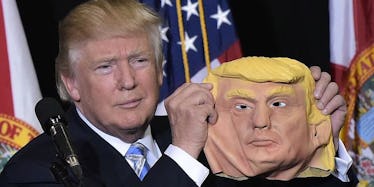 Donald Trump Halloween Costume Trend Is Already Upon Us, So Get Ready
Mandel Ngan / Getty Images
The last rays of summer are still shining and already, people are thinking ahead to Halloween. To be fair, so much has happened since last Oct. 31 that, understandably, you can't blame them for looking far ahead for an excuse to celebrate. And it practically goes without saying: There will be so many Donald Trump Halloween costumes.
It's still an open wound for some, and we can't ensure that costumes of the president will be any more or less well-received this year than last year (depending on the crowd they'll get considerably more or fewer laughs, tears, and punches thrown at them). That said, there were some downright inspiring displays of then-candidate Trump for Halloween 2016.
Should you feel so inspired to follow in their footsteps, it's not too early to start shopping for your essentials. Heavy, for instance, has a thorough guide for everything you'll need to assemble your Trump costume, which includes a blazer, American flag pin, and of course a wig or mask. To get the creative juices flowing, there are numerous photo galleries from some of the best Trump and Hillary Clinton costumes last year. This Pinterest board dedicated to the cause is also a treasure trove of inspiration, with ideas from the novice to the expert costume maker.
No matter your age, gender, or political affiliation, there's a sizable market already delivering to the segment of the population that plans to celebrate this fall by donning a platinum-blond wig and tomato-red tie.
PartyCity has a veritable arsenal of politically charged masks ready for the season. Probably for legal reasons, neither Trump nor Clinton appear to be named in the obviously representative face masks, instead referred to as "Billionaire presidential candidate," and "Female presidential candidate," respectively.
If anything, the title does our political climate justice by capturing the true spirit of the campaign: reducing each candidate to their simplest possible descriptors. This gem, for example, is aptly titled, "Combover Man."
A quick click on PartyCity's Political Costume Accessories tab yields clearly pointed suggestions all while omitting the sitting president's name. Listed is a "Blonde Combover wig" to achieve a "dramatic side part." For those who really go the distance, might we suggest the "Fake Tan Bronzer Makeup," which for the low price of $6, boasts:
You'll receive huge compliments when you get bronzed to oblivion using this Fake Tan Bronzer Makeup!
You'll probably also want a Make America Great Again hat -- either the real deal or a clever parody of it. You can make the hat say whatever you want on this site, and if you're feeling extra protest-y, you could go for the Human Rights Campaign's "Make America Gay Again" version.
For the lazier among us, a simple T-shirt adorned with a drawn-on suit and tie might be just the ticket. Amazon has a generous selection of shirts to choose from, like this one:
To achieve your more run-of-the-mill look, the classic blue suit and red tie with an American flag pin will suffice. Accessorize with any number of wigs offered in hues ranging from I Can't Believe It's Not Butter! to low-grade jaundice. See this Quality Wind-Tested Replica Wig, for instance:
At the end of the day, it's the symbolism that counts. The impact of simplicity and minimalism really can't be overstated. One spirited Halloweener turned the tables with this brilliance:
Feeling inspired? We hope so. Happy costuming!