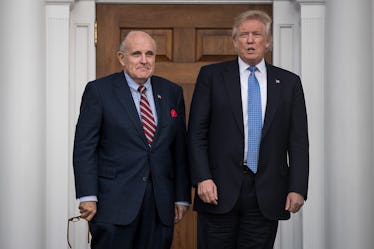 Trump & Giuliani's Relationship Goes Way Back & They Are So Similar
Drew Angerer/Getty Images News/Getty Images
Former New York Mayor Rudy Giuliani has taken the media by storm this week, offering new revelations about the Stormy Daniels scandal and President Donald Trump's willingness to testify if subpoenaed by the Justice Department. But Trump's latest attack-dog lawyer has a history of performing in the spotlight as well as being a close friend and confidant of Trump's from his New York real estate days. Trump and Giuliani's relationship goes way back. The two are extremely loyal to each other — and are eerily similar.
Giuliani revealed on May 2 on Fox News that Trump reportedly reimbursed his personal attorney Michael Cohen for paying adult film star Stormy Daniels $130,000 ahead of the 2016 election so she wouldn't go public with her claims of a past affair with the president. Trump has repeatedly denied that he had an affair with Daniels, and Cohen has denied that the money was tied to the election. Giuliani's remarks contradicted Trump's previous public denials that he paid Cohen or that he even knew about the transaction. After Giuliani's May 2 interview, Trump tweeted that Cohen "received a monthly retainer, not from the campaign and having nothing to do with the campaign, from which he entered into, through reimbursement" an NDA "to stop the false and extortionist accusations made by" Daniels.
In further attempts to clarify his remarks, Giuliani, who was added to Trump's personal legal team in April, kept doing media appearances and further complicated the president's story heading into the weekend of May 6. In some ways, it's not surprising to see Giuliani going to bat for Trump now, because their bromance runs deep.
Back when Trump was just a wee little real estate mogul, he donated quite substantially to Giuliani's political ventures. Trump was reportedly a co-chair of Giuliani's 1989 mayoral campaign fundraiser, per The Washington Post, and he donated $3,000 to his first failed campaign and $5,000 to his 1994 campaign. Trump also reportedly backed Giuliani's unsuccessful run for the U.S. Senate in 2000. Elite Daily has reached out to the White House to confirm this information. In an interview with Larry King in 1999, Trump called Giuliani, who served as mayor from 1994 to 2001, "the greatest mayor in the history of the city of New York," and their friendship was all but solidified.
The Giuliani-Trump brand has also been the subject of plenty of ribbing from comedians. On Sunday, May 6, John Oliver speculated on Last Week Tonight that the two's friendship hinged on the fact that they were "basically two versions of the same person" and mocked Giuliani for marrying his first wife, Regina Peruggi — Giuliani's second cousin.
"They're both New Yorkers coasting on their reputations, they've both had three marriages, neither of them can shut up in front of a camera, and perhaps most importantly, they both want to f*ck Ivanka," Oliver ranted. "Which is weird for Trump because Ivanka is in his family, and is weird for Giuliani because she isn't."
Oliver added, "When you look at all of this in total you realize that Giuliani's role as Trump's lawyer isn't an aberration — everything in his life has led to this point."
Through the years, though, Trump and Giuliani's friendship endured. They attended each others' weddings (plural) and were outspoken about how great the other was. Their hunger for the limelight was definitely a shared trait, as Oliver noted. In 2000, the duo appeared on The Inner Circle Show, a comedy performance put on by New York City's political reporters annually in March at the New York Hilton. Trump (jokingly?) makes sexual advances on Giuliani, who is dressed in drag. It's really something to behold in the Year of Our Lord, 2018.
Giuliani is best known for his leadership and call for unity in the aftermath of 9/11. Similarly to Trump, though, he's also known for speaking his mind — even when it offends groups of people. Giuliani was famously combative on radio show appearances in the late '90s, per The New York Times, and unafraid to call listeners who phoned in questions "slobs" and to "get a life" when they disagreed with him (sound familiar?). Their political aspirations were eerily similar too — both Trump and Giuliani flirted with the idea of running for president for years. In 2008, Giuliani made an unsuccessful bid for the Republican presidential nomination.
In some ways, their political reunion last week is a match made in heaven, given their similar styles. Matt Mahoney, a former senior political adviser to Giuliani, told PBS NewsHour on May 3, "Trump knows exactly what he gets when he gets Rudy. He's going to put stuff out there and be aggressive."
Mahoney added, "This is typical Rudy. He's someone who doesn't like to be on the sidelines. He likes to be engaged and involved." Giuliani similarly went to bat for Trump in the lead-up to the election, delivering an impassioned speech at the Republican National Convention. The speech went viral for his blowhard and bombastic delivery — it was like Giuliani's life was on the line.
Once Trump was elected, there was speculation that Giuliani would be his pick for Secretary of State. Ultimately, he settled on making Giuliani his cybersecurity adviser, a choice which was roundly mocked for its absurdity.
Oliver in his Sunday monologue said that Trump and Giuliani are continuing to behave how they've always behaved, and that is should come as no surprise.
"What happened to Giuliani is really not the right question, he's always been like this," Oliver said. "What's going to happen to him, is more to the point." So where will the Trump-Giuliani show go next? If history is any indication, what happens next will probably continue to be irreverent and shocking.