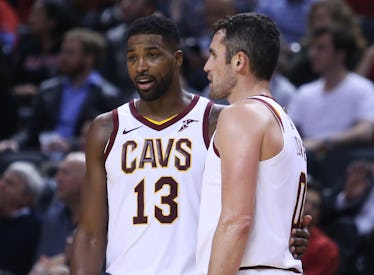 People Are Dragging Tristan Thompson For His Latest Instagram With The Shadiest Comments
Vaughn Ridley/Getty Images Sport/Getty Images
Remember when you thought that the Khloé Kardashian fandom was finally over the fact that Tristan Thompson allegedly cheated on her with multiple women when she was pregnant? Well, you were wrong, judging by the shadier-than-thou comments on the basketball star's latest social media post. Tristan Thompson's Instagram about the new NBA season is getting completely trolled by Khloé Kardashian fans, and the burns just keep coming.
Considering that Khloé and Tristan's relationship has been weathering its fair share of split rumors recently, which have only been augmented by Kardashian's increasingly cryptic social media posts (Elite Daily reached out to Kardashian's team for comment on the posts, but didn't hear back), I guess I should have seen this one coming a mile away. On Friday, Oct. 19, Thompson took to Instagram to celebrate a new season as a Cleveland Cavaliers player with the seemingly innocuous caption, "Felt good to be back on the court! #OnToTheNextOne#GoCavs," and fans didn't hold back in the comments section.
All in all, it's a pretty run-of-the-mill post, and I wouldn't have been surprised if, in any other situation, it quickly faded away into social media obscurity. That is, except for the fact that the basketball player recently moved back to Cleveland for his season without Kardashian and his daughter, True. With recent reports suggesting that "trust issues" were to blame for Khlo's decision to postpone her move and that, in fact, she was "not sure" about the relationship in general (Elite Daily reached out to Kardashian and Thompson's teams for comment but didn't hear back), fans quickly jumped to Koko's defense by trolling Thompson on Instagram.
In the comments section of the post, messages like "Too bad you can't feel good about being a good man" and "it also feels good to be loyal to Khloe. Try it," make it pretty clear how some fans feel. Consider all the tea spilled.
While Tristan was posting on Instagram on Friday night about getting back into basketball season, Kardashian was feeling contemplative, as she took to the social media platform to shed a little light into where her head was at. She took to her Instagram Story to share a confusing post about a "broken heart" and finding love and trust again, and fans are speculating that their relationship is on the rocks. Elite Daily reached out to Kardashian's team for comment on the Instagram but did not hear back by the time of publication.
I'd keep in mind that Khloé and Tristan have yet to respond to the split rumors and it appears like they're still trying to work things out at the moment. There's still a chance that the Keeping Up With the Kardashians star and her baby daughter, True, could move to Cleveland to be with Thompson down the road, but I have to admit that things aren't looking the best right now. In any case, it looks like the reality TV personality is getting plenty of support while she figures things out from her sisters and her loyal fans, who aren't afraid to get shady and spill some tea when the need arises.