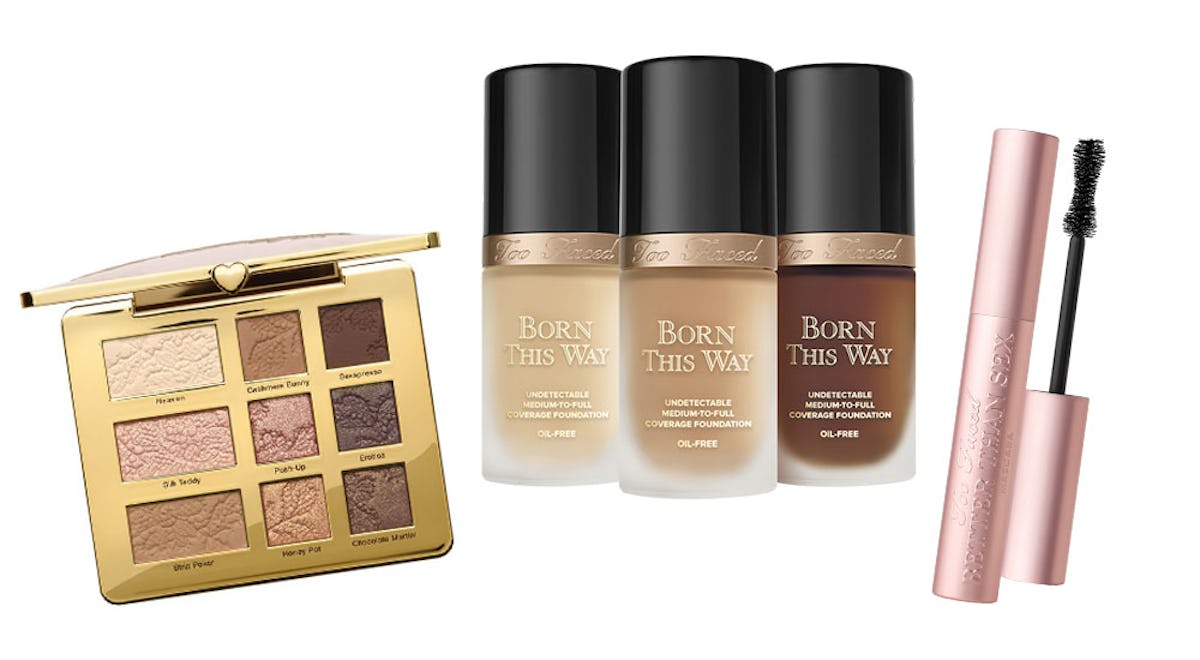 Here's How To Get Early Bird Access To Too Faced's 30 Percent Off Friends & Family Sale
Too Faced
Another day, another beauty brand announcing a massive sale I'm too much of a shopaholic to resist. This time around, it just happens to be one of the biggest names in beauty, offering a whopping 30 percent off of their iconic products, so I really can't pass it up. The Too Faced Friends & Family Sale is here, and my online shopping senses are tingling.
Seriously, is there anything better than getting to buy your favorite products without breaking the bank? Actually, there is something better: getting to be one of the first in on the action. If you agree, you should know that at this very moment, Too Faced is offering early bird sale access to the brand's BFFs, and I've got the deets on how you can shop early, too. After all, I'd hate for any of the products on your wishlist to be sold out before you get your hands on them — if there's one thing I know for sure, there's nothing Better Than Sex, and nothing Worse Than Missing A Sale. Am I right, people?
Fortunately, getting the BFF early access couldn't be simpler. In a message sent to customers on the brand's email list, a code was distributed that granted users the ability to shop before the masses:
"9HVMCD5RKDTSLH" is the magic code that will instantly turn the world of Too Faced into a discounted shopping wonderland, but before you start adding items to your cart, know some restrictions apply. The sale excludes new products, web sets, and products already on sale prior to the event. Other than that, the rest of the beauty buys are yours to take advantage of, and believe me, there are more than enough products to choose from. In fact, thank you, Too Faced, for including some restrictions, otherwise I might've went ahead and actually bought every item on the site.
If there's one item absolutely worth stocking up on, it's the iconic Better Than Sex Mascara ($24, toofaced.com), of course. The best-seller is a must for dramatic lashes, plus it's vegan and cruelty-free, so the formula is ideal for everyone.
Maybe you're hoping to stock up on some base products instead? I hear you — somehow, my bank account and my foundation bottle are always empty at exactly the same time, and I dread having to restock the latter. I highly recommend the brand's Born This Way Foundation ($39, toofaced.com) for a natural finish that still guarantees heavy-duty coverage where necessary.
My all-time favorite Too Faced product, you ask? I honestly swear by the Natural Eyes Palette ($38, toofaced.com), which has virtually every shade you need for both day and night neutral looks. I love wearing Silk Teddy all over my lid for a shimmery daytime look, or using "Erotica" to smoke out liner for dramatic, night-out glam. I even use "Cashmere Bunny" and "Sexpresso" to fill in my brows! Talk about versatile. If you're a one-palette-only kinda girl, I'd consider this the ideal go-to.
Keep in mind, the 30 percent off discount is a one-time thing, so be sure to order everything you want in one go, or you'll miss your opportunity. The discount ends on October 13 at 11:45 p.m. PT, but who knows what will be sold out by then — word of a sale travels fast! — so my advice to you is to start shopping ASAP.