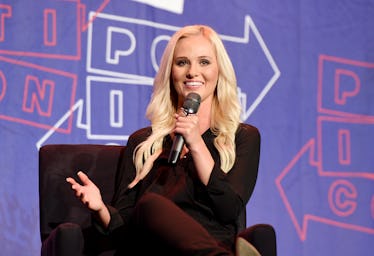 Tomi Lahren Responded To Sarah Sanders Getting Kicked Out Of A Restaurant, & Yikes
Joshua Blanchard/Getty Images Entertainment/Getty Images
Tomi Lahren is no stranger to stirring up controversy, and her latest tweet is no exception. Hours after White House Press Secretary Sarah Huckabee Sanders confirmed that she was told to leave a Lexington, Virginia restaurant due to her employment at the White House, Lahren fired back in support of her fellow conservative mouthpiece, and I'm cringing. Tomi Lahren's response to Sarah Sanders getting kicked out of a restaurant proves she's on the defensive, and it's so tone deaf.
It all started when Sarah Huckabee Sanders — who has been a vocal supporter of President Trump's highly-criticized "zero tolerance" immigration policy — and her dinner party of seven was refused service at the Red Hen on Friday, June 22 on moral grounds, per social media posts from server Jaike Foley-Schultz and the director of Clean Virginia, Brennan Gilmore. After the news went viral, the Press Secretary took to Twitter the next day to confirm the slight, along with a comment about treating people with respect that makes absolutely no sense in this context, in my opinion.
"Last night I was told by the owner of Red Hen in Lexington, VA to leave because I work for @POTUS and I politely left," she tweeted on Saturday morning. "Her actions say far more about her than about me. I always do my best to treat people, including those I disagree with, respectfully and will continue to do so."
While Sanders' Tweet completely missed the point, people from both sides of the political spectrum took to Red Hen's Yelp page and the Twitterverse to battle it out, including fellow conservative speaker Tomi Lahrens.
A few hours later, Lahren used the incident as an excuse to go on the attack, and her defensive comments on Twitter show she's so out of touch with the real issue at hand. "Goes to show the Left is so unloving and intolerant they can't even be in the same restaurant with a kickass conservative woman like Sarah," she wrote. "Imagine being that weak of a human you can't stomach proximity to someone you disagree with politically. Weak!"
Just minutes earlier, she also appeared to imply that Americans should have more empathy and compassion for our citizens instead of humans in general, tweeting, "Imagine if the Democrats cared as much about Americans as they do illegal immigrants...maybe we could get something done."
It's hard to fathom being called "intolerant" by Lahren, but perhaps it's not so surprising that she had to get the last (controversial) word in.
Just days ago, Lahren ignited a media firestorm when she referred to the border patrol guards separating migrant kids from their families at the south border as "humanitarians" in a tweet. People were quick to school her with the correct definition of the word, because how are people taking almost 2,000 kids to cage-like detention centers around the country are attempting to make their lives better and improve their welfare?
Unsurprisingly, both conservatives and liberals were horrified by heart-wrenching images that showed the prison-like conditions the almost 2,000 immigrant children being torn away from their families were being detained in. In response to overwhelming pressure, President Trump backtracked by signing an executive order into law on June 20, halting the proceedings. However, there is still no plan in place to reunite the migrant children with their parents.
It's understandable that a few of the conservative speakers who staunchly defended the inhumane separations are now coming under fire. Earlier this week, Homeland Security Secretary Kirstjen Nielsen was met with protestors at a D.C.-area Mexican restaurant after she denied that the immigration policy even existed, period, via Twitter on June 17, according to the Hill. Just three days later, she was present when President Trump signed the executive order halting the practices.
On June 14, Sanders put her own mouth in her foot and made headlines when she tried to justify the border practices by arguing that "enforcing the law is biblical." This was in response to Attorney General Jeff Sessions' controversial claim that separating parents from children is an example set in the Bible, and people were floored. Yikes.
With the Trump administration struggling to get out of this immigration mess, it's not surprising that Sanders has already confirmed that she will be leaving her position at the White House by the end of the year. Personally, I am hoping to see fresh political figures who are open to discussing both moral boundaries and better immigration practices, not just defending their parties at all costs.