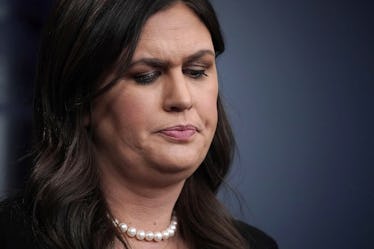 Sarah Sanders' Response To Questions About Separating Children At The Border Is Hard To Watch
Alex Wong/Getty Images News/Getty Images
On Thursday, June 14, during the daily White House press briefing, Press Secretary Sarah Huckabee Sanders was pressed by reporters from multiple outlets about the administration's policies on immigration. Specifically, she was asked about the policies that allow for children to be separated from their parents upon arriving at the U.S. border. Sanders' response to questions about separating children at the border seemed to many to be the epitome of how this administration is handling these arrivals. Namely, she put blame on the law, the Bible, and the Democrats for the Trump administration's policies, all while avoiding any discussion of humanity for the families who are massively impacted.
In early April, Attorney General Jeff Sessions announced that federal prosecutors would be taking a "zero tolerance" policy on people attempting to cross the border illegally. This policy required a much larger amount of people crossing the border to be charged and face prison time, going against previous policies. The "zero tolerance" policy also required more children to be separated from their parents, as the adults would be charged and children sent to juvenile facilities. Since April, the number of migrant children in custody increased by over 20 percent, according to McClatchy.
With this policy change, stories have begun to proliferate about families being separated and children filling up facilities, many of which are not exactly summer camps. Meanwhile, reports circulated this week, coming from McClatchy, that the Trump administration wants to erect tent cities for migrant children (the Department of Health and Human Services (HHS) told Elite Daily on Wednesday that they were evaluating spaces to house children). Protests popped up around the country over all these factors.
That was the context in which Sanders was questioned. According to The Daily Beast, the questioning began with Jim Acosta of CNN. In his question on Thursday, Acosta referenced Sessions, who earlier in the day cited the Bible's calls to follow laws as reasoning for separating families.
"Where does it say in the Bible that it's moral to take children away from their mothers?" Acosta asked.
Sanders responded by saying she wasn't aware of Sessions' quotes, but said, "It is very biblical to enforce the law."
Acosta interrupted her, pressing her on his original question.
"That's not what I said," Sanders shot back. "I know it's hard for you to understand even short sentences, I guess, and please don't take my words out of context, but the separation of illegal alien families is the product of the same legal loopholes that Democrats refuse to close, and these laws are the same that have been on the books for a decade. The president is simply enforcing them."
She went on to blame Democrats for the "loophole." To her point: President Donald Trump is a Republican; Jeff Sessions is a Republican; the Congress is controlled by Republicans; "zero tolerance" was introduced by Sessions.
Next up, Sanders called on Paula Reid of CBS News.
"First of all, there is no law that requires families be separated at the border," Reid said to begin her questions, "this was the administration's choice to move from civil matters on immigration to criminal."
After fact-checking there, Reid asked Sanders, "Why did the administration find that this was necessary, and if it continues to not have much of a deterrent effect, will you continue this policy?"
Sanders again responded that it's Democrats' fault for a law to be "fixed," at which Reid pressed Sanders that it was a policy change from Sessions in April that led to families being separated at the border (see: "zero tolerance" and federal prosecution). Sanders said all the administration is doing is better enforcing the law.
It was at this point that Brian Karem, White House reporter at Playboy (yes, that Playboy — they have a White House correspondent) erupted.
"Don't you have any empathy?" he shouted, standing up out of turn. "Come on, Sarah, you're a parent. Don't you have any empathy for what these people are going through? They have less than you do. Sarah, come on, seriously. Seriously."
"I'm trying to be serious, but I'm not going to have you tell out of turn," Sanders said, at least getting one fact right.
"These people have nothing," Karem continued, "they come here with nothing."
"Hey, Brian," Sanders interrupted, "I know you want to get some more TV time, but that's not what this is about."
Karem continued to press her on having empathy as a parent, and Sanders continued to ignore his questions, calling on the next person to ask a question. And at the end of the day, kids and their parents are still being separated.