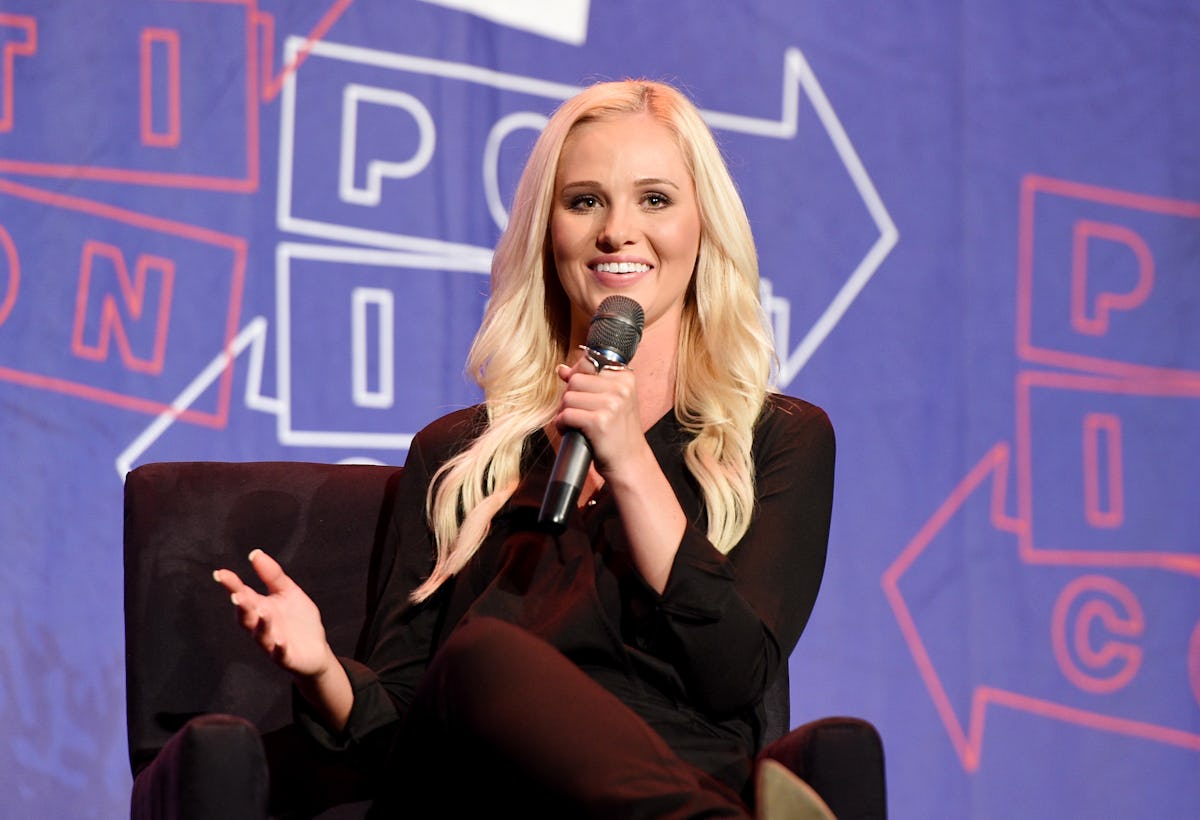 Tomi Lahren's Opinion On The Santa Fe Shooting Shows She Hasn't Learned From The Last 5 Shootings
Joshua Blanchard/Getty Images Entertainment/Getty Images
Conservative political commentator Tomi Lahren is back at it again. She's often garnered massive amounts of attention for her controversial viewpoints, especially surrounding gun control, which is why I'm not totally shocked over the response that Tomi Lahren's final thoughts about the Sante Fe shooting has gotten. I am, however, appalled at the fact that her thoughts haven't really changed with so many school shootings already occurring this year. *sigh* Simply appalled, you guys.
On May 22, Lahren shared her thoughts about the May 18 tragedy at a Santa Fe, Texas high school — which left 10 people dead and another 10 injured — on Fox News. And although she expressed that there should be actual solutions that reduce school shootings, she maintained the "knee jerk reaction to strip away [gun] rights" would "never be the solution."
"You can seize all the guns you want but truth is, there will always be evil in this world and evil people will always find evil ways to carry out evil things which is the EXACT reason many of us choose to be armed," Lahren said. "It's not about how much we love our guns, it's how much we love the people we protect with those guns."
She went on to say that having safety measures, like keeping guns in schools, are the true ways to help prevent future mass shootings, and then she said that the breakdown of American families over the years has contributed to the spike in school shootings. "It's much harder to take a look at society and admit where we've gone wrong," she concluded. "It has nothing to do with the Second Amendment."
So, in translation, fix gun problems with guns, and deflect from the issue at hand? Got it.
There's just so much wrong with Lahren's points. For starters, according to NPR, schools are actually much safer than they were decades ago. Garen Wintemute, an emergency room physician and leader of a gun violence research program at the University of California, Davis, told the publication back in March, "The best way to prevent school shootings is to prevent shootings in general." So increasing the amount of guns, as Lahren suggested, doesn't seem like the brightest idea, if you ask me.
When the Parkland shooting happened back in February, black students had also come forward to express their concerns about having increased police presence at Marjory Stoneman Douglas High School (the site of the tragedy). With the vast disparities in how police use force, that has to be to be taken into consideration, too.
"The more we add security or police forces and so on to schools, the more likely it is the students who are already at risk of being seen as potential trouble makers get swept up into the justice system or suspended and pushed out of schools," Aaron Kupchik, a professor at the University of Delaware, told the Huffington Post.
Yeahhh, I don't know if Lahren thought this one out, you guys.
Twitter users weren't feeling Lahren's comments, either.
Others weren't totally opposed to some of the ideas Lahren proposed, though.
Recently, student survivors of the Sante Fe shooting have even called out the news correspondent over her trivial views. On May 19, a Twitter account that appears to be run by Santa Fe High School student Bree Butler expressed the anger she feels about another school shooting happening in our country. She also unearthed an old tweet from Lahren — originally posted on Nov. 6, 2017 — in which the news host stated, "If you think it's wise to lecture Texans on gun laws, I'm guessing you haven't spent much time in Texas."
Butler then challenged Lahren's tweet, writing, "hey tonya, 10 of my classmates died yesterday and 10 others were injured. i would LOVE to lecture any texan on gun laws."
Lahren's initial tweet was originally posted in response to the church shooting that took place in Sutherland Springs, Texas, which resulted in the deaths of 26 people. Fast forward, past dozens of mass shootings, and Lahren clearly hasn't budged on her stances one bit.
It's obvious that she's steadfast in her views, but I'm gonna keep my fingers crossed and hope that she eventually gets a clue. (Hopefully sooner rather than later.)