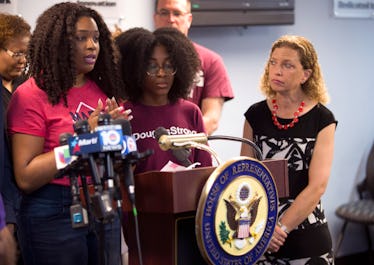 Black Parkland Students Are Speaking Out About Being "Thoroughly Underrepresented"
Joe Raedle/Getty Images News/Getty Images
In the aftermath of the Feb. 14 shooting at Marjory Stoneman Douglas High School in Parkland, Florida, students from the school have been the subject of a nationally televised town hall, the cover of magazines, a nationwide march, and primetime news interviews. And yet, one particular group of survivors says it feels left out of the conversation. During a press conference on Wednesday, March 28, came an explanation of this sentiment, with black Parkland students explaining why they feel underrepresented.
"We are proud to say we are from Douglas, we are proud to say that those who are at the front are doing a great job, but we also — as you can see — have so much to say, too," 17-year-old Mei-Ling Ho-Shing said at the press conference.
"The Black Lives Matter movement has been addressing the topic since the murder of Trayvon Martin in 2012, yet we have never seen this kind of support for our cause, we surely do not feel that the lives or voices of minorities are valued as much as those of our white counterparts," another student, Tyah-Amo Roberts, said.
Among the other concerns the students raised at the press conference was a wariness about how an increased police presence at their school could negatively affect the black student, who make up 11 percent of the student body at Stoneman Douglas, per the Miami Herald.
Though Wednesday's press conference was held by students in the Parkland community, it could well be considered a manifestation of what has been a widely shared criticism of the post-Parkland shooting coverage: that it proves a disparity between coverage of white protesters and black protesters.
Actor LeVar Burton is one of the people who shared that criticism. In an op-ed for NBC, he wrote,
People of color in this country, in this culture, tend to not matter as much as those who are white; that is the truth of America. In the Black Lives Matter movement, young black people have been shouting from the rooftops until their voices are raw and hoarse, and America hasn't listened. But now that it's white kids who are shouting at the tops of their lungs, people pay attention.
Burton is not alone.
He is just one of a number of notable people who has echoed the same arguments black Parkland students made on Wednesday: that there is a noticeable disparity in coverage for different movements against gun violence, and that there is a reason for black students to be skeptical of the safety measures that have been imposed as a result of the Parkland shooting.
Among the notable names echoing these sentiments was Naomi Wadler, an 11-year-old speakers at the March For Our Lives.
"I am here today to acknowledge and represent the African American girls whose stories don't make the front page of every national newspaper, whose stories don't lead on the evening news," Wadler said, per BBC "For far too long, these names, these black girls and women have been just numbers. I'm here to say 'Never Again!' for those girls too. I'm here to say that everyone should value those girls, too."
MSNBC host Chris Hayes, argued against distancing concerns about police shootings from movements against other types of gun violence. "US gun culture, astronomically high rates of gun deaths and gun violence, and police shooting unarmed citizens are all part of the same problem," Hayes tweeted.
Meanwhile, others have expressed blunt resentment for the amount of coverage granted to the most publicized of Parkland survivors.
"The media has never done this for young black activists," activist Samuel Sinyangwe tweeted in reaction to a CBS News panel that included Parkland students. "A whole round table? Never."
On Wednesday, black survivors of the Parkland shooting made it clear that they agree with those same criticisms, that they feel underrepresented, and that they intend to make their voices heard in the national discussion about gun violence.