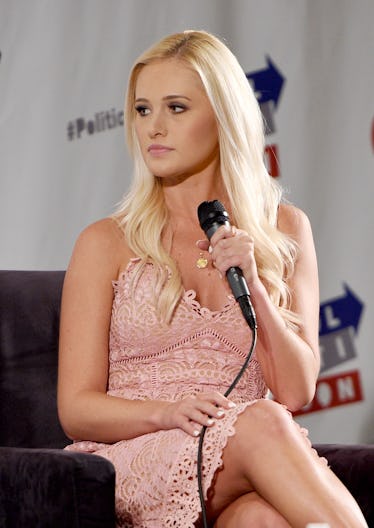 Tomi Lahren Reportedly Kicked Her Dog For Interrupting A TV Appearance, & WTF
Joshua Blanchard/Getty Images Entertainment/Getty Images
Here's some news to dampen your day. According to TMZ reports, television personality Tomi Lahren kicked her dog for interrupting her interview with Fox and Friends. Pun intended when I say, woof.
Lahren posted a video on March 14 of her berating her dog Kota for supposedly pestering her during an appearance on television program Fox and Friends. The video shows the camera pointed at the small dog, sitting on what looked like a bed, while Lahren lectured it.
"Kota why don't you tell the world what you were doing during my entire Fox and Friends hit?" Lahren said in the video. "Oh I know, chewing on her damn bone as loud as she possibly could. So I had to kick her like five times during the show. So thank you, Kota, for that."
Judging from Kota's tail wagging throughout the entire video, it's questionable as to what exactly Lahren means by "kicking," and whether or not it was a joke — but if so, it's definitely not funny. Elite Daily reached out to a representative of Lahren for comment, but didn't hear back by the time of publication.
The Fox and Friends interview mainly discussed Hillary Clinton's stance on feminism, with Lahren contributing a classic lengthy rant. If she did kick Kota a few times during the interview, I have to say that she hid it extremely well.
Since reports surfaced about Lahren supposedly kicking her dog, people haven't been shy about expressing their outrage.
Following the outcry, Lahren posted an Instagram story the same day with a video showing her rubbing Kota's belly, apparently in response to the criticism. "If you don't think little Kota gets treated like a queen, you clearly don't know little Kota," Lahren said in the most recent video. "That's for dang sure. Right Kota?"
Tomi Lahren is no stranger to controversy and criticism.
As a conservative Republican, Lahren first started garnering national attention through her popular "Final Thoughts" segment on One America News Network and her show Tomi on The Blaze, where she regularly criticized liberal politics. Lahren later joined Fox News on Aug. 30, 2017 as a contributing commentator.
Time and time again the 25-year-old mouthpiece has received immense backlash from media channels and viewers who criticize her extreme takes on activism, social issues, and politics. On Feb. 14, following the tragic school shooting at Marjory Stoneman Douglas High in Parkland, Florida which killed 17 people, Lahren took to Twitter to condemn gun control supporters.
She tweeted,
Can the Left let the families grieve for even 24 hours before they push their anti-gun and anti-gunowner agenda? My goodness. This isn't about a gun it's about another lunatic. #FloridaShooting
Following Lahren's controversial tweet, Parkland students tweeted in response to the Fox News commentator. Their responses were passionate rebuttals to Lahren's anti-gun control stance.
Plus, to contradict Lahren's tweet, it's actually many of the students themselves that are actually calling for gun reform.
Lahren has also expressed thoughts on political topics including the NFL protests, health care, and the Black Lives Matter movement. She's also an open Donald Trump supporter, and similar to Trump, Lahren often shares her opinions and thoughts via social media. Twitter fingers strikes again.
Lahren doesn't restrict her opinions to just issues — she also frequently speaks up in defense of President Donald Trump. For example, her Jan. 12 tweet about Donald Trump's controversial "sh*thole countries" comment, which truly left me speechless.
I'm still picking my jaw up from the ground.
Her tweet came after Trump reportedly referred to Haiti and African countries as "sh*thole countries" during a meeting on Jan. 11. According to The New York Times, the comments came while discussing a bipartisan deal on immigration with members of Congress. Trump denied the claim via Twitter on the morning of Jan. 12, writing "the language used by me at the DACA meeting was tough, but this was not the language used."
Another day, another unbelievable moment in politics. Whether Lahren actually kicked Kota or not, she's still definitely in the dog house.