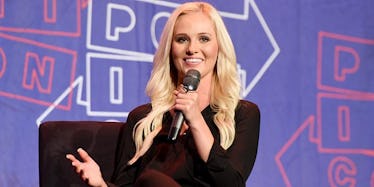 Tomi Lahren Has A New Job And Who Hired Her Won't Surprise You
Joshua Blanchard/Getty Images
Five months after leaving her last permanent role in media, Tomi Lahren has a new job. On Wednesday morning, Aug. 30, Fox News announced it signed Lahren to join the network as a contributor. The 25-year-old will make her first appearance in her new capacity on Wednesday night, when she guests on Sean Hannity's nightly show.
On her Facebook page, Lahren expressed excitement for her move to Fox News, writing,
I am blessed and honored to join the Fox News team. This exciting new step will allow me to give voice to all the America-loving patriots who have had my back since day one. I will remain a solid and passionate advocate for you.
That Lahren has signed with Fox News comes as no surprise.
A former host for The Blaze TV, Lahren had already made numerous appearances on Fox during the past months, including an appearance on Fox & Friends last week, during which she asserted that "the left" was leading a "normalization" of hatred against police.
Then there's the fact that much of her work has featured just that: criticism of the left, which itself is common place on Fox News' opinion shows.
In a press release, Fox News said Lahren will have a "signature role" on those same shows.
The network also said that Lahren will be featured in a digital product that is "currently in development." In other words, Lahren is likely to star on a show or segment that will be made for platforms outside of the Fox News cable channel, like Facebook or YouTube.
Those platforms are where she made her mark, racking up millions of views on videos that featured trademark rants. Those same opinions made her a polarizing figure, though, including one of her most controversial of assertions: that Black Lives Matters protestors are akin to the Ku Klux Klan, a white supremacist domestic terror group.
Lahren left The Blaze TV in March. The departure came after she was suspended from the network after declaring herself pro-choice during an appearance on ABC's The View.