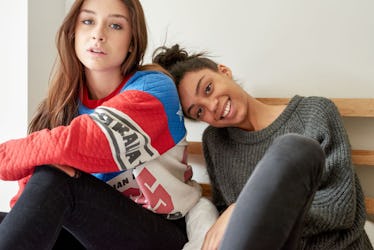 When You're Officially Moving In Together, Send These 5 Texts To Your Fam
There's a lot you need to accomplish once you and bae have decided to move in together. Of course, this entails discussing which neighborhoods you can agree on, finding a realtor, going on showings together, and figuring out how you'll handle finances. Oh yeah — and you'll have to find a way to announce that you're officially moving in together so your loved ones are in the loop. It may not be the first thing that comes to mind amidst everything else on your to-do list, but it's still an important step. After all, cohabitating is a pretty massive milestone in your relationship, and your family will likely want to hear the news from you rather than finding out through Facebook (or when they drop by your digs unexpectedly — #awk).
But how exactly do you share this kind of news over text? Well, that all depends on your circumstances. If you know mom and dad are a big fan of your boo, then your message will obviously be very different than if your parents have never met your partner, or don't approve of the relationship. Crafting the perfect text means taking their feelings into account, while also firmly standing your ground. Above all, it means expressing your enthusiasm for this next chapter in your life — because let's be real, that energy is contagious. So no matter how your family is feeling about this huge step, your excitement is bound to rub off on them eventually.
Still not sure how to break your big news? Try following one of these text templates that are tailored to your specific situation.