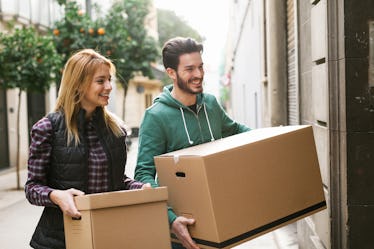 Do You Need To Ask Your Parents' Permission To Move In With Your Partner?
So, you've decided to move in with your significant other. Before you share the exciting news with your friends and family, you might want to let your parents know about your plan. There's definitely a strategy for talking to parents about moving in with your boyfriend or girlfriend. While it's ultimately your life and therefore your decision, it's still a nice courtesy to have a detailed discussion with your parents beforehand. They'll likely want to hear your reasons, and they might ask why you feel you're ready to take this next step in your relationship. Ease their worries by taking the time to explain your plans in a way that they can understand. By going into the conversation with an open mind, you're more likely to keep everyone calm. Be honest with them and listen to what they have to say. Who knows? Your parents might even provide valuable insight you wouldn't have gotten otherwise.
I spoke to marriage and family therapist Dr. Carolina Castaños, Ph.D., about the best way to talk to your parents about moving in with your partner. While you don't need to ask for their explicit permission (you're an adult now), the more you include your parents in the process, the better they'll feel about your decision.