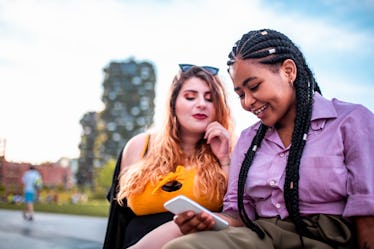 The Most Creative #NotAPhoto TikToks Include Dogs & Hanging Popcorn
There's a new TikTok trend popping up on everyone's "For You" page that has many users doing a double take. TikTok's "Make People Think It's A Photo" challenge is definitely that — a challenge — as it requires all subjects to remain perfectly still. If you've got a steady hand, are great at posing, and love to get creative, you may want to try it out for yourself.
The "Make People Think It's A Photo" challenge (aka #NotAPhoto) is all about TikTokers freezing in place to make it look like their video is a still photo. When the music drops, they move, revealing that it was a video the whole time.
To take the trend to another level, some users are setting up their "photos" with props to make it undeniably a picture. By using household items like plastic wrap and string, you can pretty much fool anyone into thinking your video is a freeze frame. You may also want to get yourself a tripod if you know you can't keep your arm steady. There are other tips and tricks you can learn just by scrolling through the #NotAPhoto tag on your phone, which has more than 260 million views. These eight TikTokers doing the "Make People Think It's A Photo" challenge really nailed it as well, so maybe they can inspire you to create your very own.