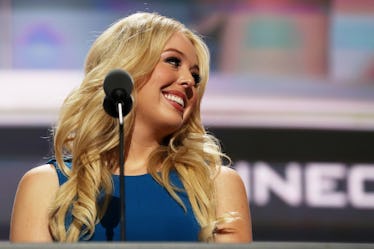 Tiffany Trump Tweeted The Most Mysterious Video About Voting In The Midterms
Joe Raedle/Getty Images News/Getty Images
Election Day for American voters is here and that includes celebrities. If you somehow haven't seen it, celebrities have been out in full force on Nov. 6, urging their fans to engage in the election, endorsing their preferred candidates, and posting messages announcing that they've they've done their civic duty and voted in the 2018 midterms themselves. One of those people is first daughter Tiffany Trump, but unlike her famous counterparts, Tiffany Trump's "I Voted" tweet for the 2018 midterms is still pretty mysterious.
On Tuesday evening, Trump announced that she'd voted in the midterms by sharing a photo of her ballot to Twitter. Honestly, it's a totally cute pic: she decorated it perfectly with a red, white, and blue "I Voted" animation and a drawing of the American flag. However, the photo is just a small corner of her ballot and she didn't attach a caption to the post either, which leaves many unanswered questions — like, um, who she voted for or which party she supported. Over the course of the midterm elections, Trump had been relatively quiet, never endorsing or addressing any candidates, so it's totally unclear where she stands in this race, all evidence aside.
Admittedly, she totally has the right to keep her ballot choices private. But you can't stop us from wondering.
Despite her dad being a Republican president, the younger Trump daughter has shown some inclination towards liberal causes and issues. Back in March, for example, Trump "liked" an anti-GOP post on Instagram. The post was shared by Instagram user Julia Moshy and featured several photos from the March 24 March for Our Lives rally, which was an effort organized to call for tighter gun legislation and an end to school shootings. One of the photos included a man holding a sign that read, "Next massacre will be the GOP in the midterm elections," which earned a double-tap from the first daughter herself.
She had also been in a relationship with a Democrat, University of Pennsylvania graduate Ross Mechanic, for two years before the couple called it quits back in March. (And no, it wasn't their political differences that led to their demise, in case you were wondering. It was reportedly a distance issue.)
In any case, Trump's silence might just be an effort to keep a cool relationship with her father, President Donald Trump. The pair reportedly had a strained relationship over the course of her life, as she moved to California when Donald and her mother Marla Maples split in 1999, while he stayed in New York. Since the elder Trump claimed the presidency, the two have seemingly been working on strengthening their relationship. She supported him at his very first State of the Union in January and the White House's annual turkey pardoning ceremony in November 2017. But again, it's a work in progress, so perhaps she's keeping a low political profile for now.
It's honestly anyone's guess as to why she didn't explicitly name who she supported in the 2018 midterms, though. But the good thing is that she at least got involved and used her voice in such a pivotal moment. So I'll still give her a round of applause for that.