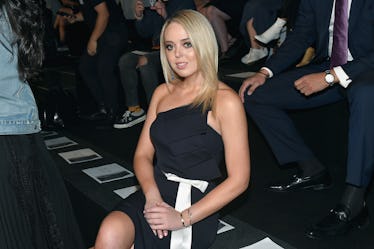 Tiffany Trump Is Joining The Family For Her Dad's State Of The Union Speech
Mike Coppola/Getty Images Entertainment/Getty Images
We're used to our presidents attending the State of The Union with their families, but one question we can't shake this particular year is, is Tiffany Trump at the State of the Union? In comparison to her siblings, she's taken a backseat to the spotlight, rarely ever photographed with her father. But... I'm going to assume that she'll be there.
On Jan. 29, the White House announced all of President Trump's children, except for Barron, will be attending this year's State of the Union. White House Press Secretary Sarah Huckabee Sanders told reporters, "All of the president's children, along with the first lady, will be at the State of the Union, with the exclusion of Barron. I don't believe he will be attending as of right now."
The president's other sons, Donald Trump Jr. and Eric, who have been in New York managing the Trump Organization since their father took office, will travel to Washington D.C. to join Ivanka and Tiffany Trump for Tuesday's event, according to The Washington Examiner. The appearances might come as a bit of a shock, considering Tiffany Trump is rarely in the political public eye.
Families of the president usually attend the State of the Union.
Though it may be a little surprising that Trump will reportedly attend such a public, political event, families of the president often attend the State of the Union. In 2008, at George W. Bush's last State of the Union, he was accompanied by his daughters, Barbara and Jenna.
In 1996, at Bill Clinton's last State of the Union of his first term, Hillary and Chelsea Clinton were spotted in the audience, smiling and clapping in support of the then-president.
So honestly, by the looks of it, it seems that the only time children don't attend the State of the Union is when they're of a young age, which is perhaps why Trump's little brother Barron, who is 11 years old, won't be in attendance.
Trump has had a rocky history with her father.
The news of her reported attendance might also be a bit of a shock considering Trump's played the background so much more than her siblings. After her parents divorced in 1999, she moved across the country to Calabasas, California to live with her mother, Marla Maples, while her father stayed in New York, according to Vanity Fair.
"I don't know what it's like to have a typical father figure," she told Business Insider in 2015.
In a New York Times profile piece from 2016, Maples revealed Trump wanted to get closer to her father and build a relationship with him, similar to those of her siblings. She said, "She'd like to get to know her father better and spend time with him like his other children did: by going to his office and watching him work."
In 2017, Trump started her first year of law school at Georgetown University in Washington D.C., just miles from the White House. She's been spotted at events like the White House Easter Egg Roll and Turkey Pardon, and the 2016 Republican National Convention, which means she's at least supportive of her dad during presidential traditions. While speaking about his daughter to the Times via email in 2016, President Trump added:
Tiffany is a tremendous young woman with a big and beautiful heart. She was always a great student and a very popular person no matter where she went. I am incredibly proud of Tiffany and how well she has done.
While Trump has evaded the spotlight throughout her father's presidency, it's good to see that she shows up when it counts. I'm sure she is as proud of her father as he is of her.