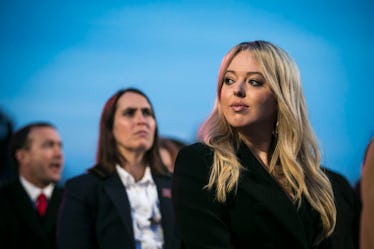 Tiffany Trump Posted A Throwback Photo For Father's Day, & It's Just So Sweet
Pool/Getty Images News/Getty Images
I'm pretty obsessed with checking out what kinds of "occasion messages" celebrities post about their parents, mostly so I can get some inspo. But this Father's Day I was mostly occupied looking out for what the children of the first family had to say about their dad, and I think Trump's youngest daughter might have won this year. Tiffany Trump's Father's Day post to Donald is an adorable throwback, and it's pretty good.
The youngest Trump girl's relationship with President Trump is a bit of a hot topic. Unlike the president's other children, Ivanka Trump, Donald Trump Jr., Eric Trump, and then Barron Trump, Tiffany Trump grew up in California, away from her father and half-siblings back in New York City. But if there were any questions doubting how close the two are, I think Trump's Father's Day post squashed them.
On June 17, Trump tweeted a throwback photo of President Trump holding her as a little girl, apparently at around age four or five. There are little gold hearts drawn on the black and white photo, and underneath it says, "Happy Father's Day! I love you and I am so grateful to have you as my dad!" Trump also added a caption to the tweet that read, "Happy Father's Day @realDonaldTrump I love you so much!"
Trump's mom, Marla Maples, decided to take her daughter to California after her split from President Trump in 1999, and after that Trump would only visit her father a couple of times a year. In 2016, Maples told People that she wanted to raise her daughter out of the spotlight and very differently from how President Trump's other children were being raised in New York City. There were home-cooked meals, Gilmore Girls, and a trampoline out back.
Given how Trump grew up away from the Trump name and family, it's always interesting to see how her relationship with her father unfolds while he's in the White House. His other adult children are heavily involved in the Trump Organization, and Ivanka even has an office in the West Wing, but Trump is doing her own thing in law school right now. But when your dad's the president, there are always eyes on you. But maybe there's nothing to look out for given how sweet her Father's Day message to President Trump was. It's definitely not the first time she's relied on a sweet throwback to get her message across.
On June 14, President Trump celebrated his 72nd birthday, and Trump was there once again to post a throwback photo of herself and the president on Instagram. "Happy Birthday Dad! @realdonaldtrump I love you so much," the caption read. Her slideshow contained two photos. One was a recent shot of herself, her father, and her brother Barron. The second was a throwback to Trump as a child kissing President Trump on the cheek.
It was a pretty cute picture (even though I didn't really want to like it).
Trump wasn't the only "first child" to send the president some love on Father's Day. The other Trump daughter, Ivanka, posted a photo to Instagram of her dad and her husband, Jared Kushner, about to low-five, and the caption read, "Happy #FathersDay to these two amazing dads." Excuse me if I'm wrong, but given how famously close Ivanka and President Trump are, you think he would have warranted his own Father's Day post, am I right? But it was still a nice message to her dad on Father's Day.
It's pretty clear that despite how or where they were raised, it looks like President Trump is lucky enough to have two daughters who really love and care about him. Now all I'm waiting for is to see what the president tweets Tiffany for her birthday this October...