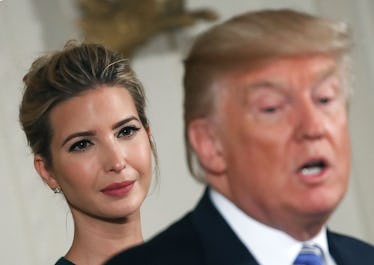 Ivanka Trump's Quotes About Donald Trump Prove That She's His Biggest Champion
Mark Wilson/Getty Images News/Getty Images
With Ivanka Trump being President Donald Trump's oldest daughter and right-hand woman when it comes to White House affairs, you can't help but question the kind of bond they have. She's filled in for him in some pretty major moments (*cough* the 2018 PyeongChang Olympic Games *cough*) and has even spoken up for him during some of his biggest challenges, which makes them seem like two peas in a pod. But then again, there's always the possibility that there could be more tension in their relationship than we may realize. I've done some digging to get to the bottom of it though, and these Ivanka Trump quotes about Donald Trump prove that she's totally ride-or-die when it comes to her dad.
Trump, 36, originally spearheaded her own fashion company, but has served as a White House adviser in her father's administration since 2017. Over the past year and some change, Trump has been pretty open when it comes to her dad and his affairs (no pun intended) — like in April 2016 when she answered questions about accusations that he's a misogynist. She said at a CNN town hall,
I've witnessed these incredible female role models that he's employed in the highest executive positions at the Trump Organization my entire life, in an industry that has been dominated by men, is still dominated by men, but certainly was when he was starting out in his career and employing some of these women and raising them through the ranks.
When giving an example of the ways he influenced or empowered women, she revealed that her dad told her she could do anything if she "set her mind to it." She said, "There wasn't anything I couldn't do if I set my mind to it, if I had deep passion." She claimed that message isn't one "a father would relay to a daughter who he didn't believe had the potential to accomplish exactly what her brothers could." And added, "So for me, his actions speak louder than the words of many politicians who talk about gender equality but it's not evidenced in their daily employment practices."
It's not the only time Trump's praised her father on women's issues. She has frequently defended her father on the subject, including advocating him as a champion for women on the 2016 presidential campaign trail.
At the Republican National Convention in July 2016, Trump said that her father would support women in the workplace. She said,
As President, my father will change the labor laws that were put into place at a time when women were not a significant portion of the workforce. And he will focus on making quality childcare affordable and accessible for all.
She also recounted instances where she said her father would help people he'd never even met, which showcased a more human side of the now-president. She said,
Over the years, on too many occasions to count, I saw my father tear stories out of the newspaper about people he had never met who were facing some injustice or hardship. He'd write a note to his assistant in his signature black felt-tip pen and request that the person be found and invited to Trump Tower to meet with him.
During a Forbes magazine summit for women in May 2016, she also praised her father for setting a new bar in politics and offering "something we have never seen." According to The Telegraph, she said, "He's honest. With him, what you see is what you get – even if you don't like the topic. I think people respect the fact that he is bold enough. That is something we have never seen in politics." (...)
Clearly, Trump is quite a champion for her dad.
But politics aren't the only thing that Trump has praised her father on. Back in January 2016, the adviser also praised her father's business acumen. According to USA Today, she said,
He taught us that to inspire and gain respect in life and in business, you have to earn it. He has done just that over decades and achieved success at the highest level across multiple industries. He has employed tens of thousands of people and inspired them to achieve great things. Countless times I've watched my dad make deals that seemed impossible to get done.
Clearly, Trump has been inspired by her father: In addition to owning her own fashion company or working as one of his trusted advisers, she also served as the executive vice president of development and acquisitions of the Trump Organization once upon a time. This is the kind of hustle we all need in our lives, you guys.
There's no denying how supportive Trump's quotes about her father are. But then again, are we really surprised? Clearly, the Trumps stick together.