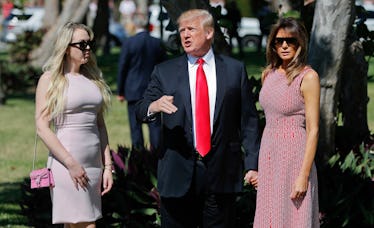 Tiffany Trump Got Her "Happy Birthday" Post In To Melania Just In The Nick Of Time
Pablo Martinez Monsivais/AP/REX/Shutterstock
On Thursday, April 26, Melania Trump turned 48 years old. While it's unclear to the public how she actually celebrated, her big family had some mixed reactions to the day on social media — which, as any millennial knows, is absolutely where real life happens. While President Donald Trump did not spare a tweet for his wife's birthday, Tiffany Trump wished Melania a happy birthday with an Instagram post.
Instagram is Tiffany's primary public social media account, so it makes sense for it to have been posted there. About an hour before midnight on the east coast, Tiffany posted a sweet birthday post to her Instagram story, following in the footsteps of her half-sister Ivanka, who did the same earlier in the day. Tiffany's post included a photo of herself, Melania, and Donald Trump that appears to have been taken on the day of the White House's Easter Egg Roll, which took place earlier this month. Along with the picture, Tiffany included a "Happy Birthday" filter frame with a white background and balloons. She subtly tagged her father (@realdonaldtrump) at the bottom left of the post and added a location tag for the White House.
Tiffany and Melania Trump spent quite a bit of time together around Easter. In addition to joining her family for the egg roll, Tiffany went with her father and Melania to church in Florida on the actual holiday. On the way to church, body language expert Traci Brown told Elite Daily, Tiffany and Melania seemed "glad that the other one's there." So it seems like Tiffany's Thursday post was both a well-photographed picture and an acknowledgment of some good recent times they had together.
"Happy birthday @flotus," Tiffany wrote on the post. "Love you!"
Tiffany's message was pretty and simple and got the job done. In putting up that post, she became the third out of Donald Trump's four adult children to publicly wish Melania a happy birthday. (Melania Trump's only child with Donald is Barron, who, at 12 years old, does not have a public social media presence.) Earlier in the day, Ivanka posted both a tweet and a picture to her Instagram story to celebrate Melania, calling her "an incredible wife, mother and First Lady!"
Donald Trump Jr., the elder Trump's oldest child and an infamous tweeter in his own right, also tweeted for the first lady's birthday, "Wishing you an incredible day."
Eric Trump did not publicly acknowledge his dad's third wife's birthday on Thursday, although he did take the time to quote-tweet Kanye West.
Likewise, President Donald Trump did not post on social media for his wife's birthday. He sent out two tweets for the whole day (a shocking low for him) about his morning appearance on Fox and Friends and about the World Cup. The president's Fox and Friends appearance — and subsequent fallout — may have taken up his tweeting time. During the Thursday morning appearance, Trump said that Michael Cohen represented him in "this crazy Stormy Daniels deal," appearing to admit his own closer involvement in a 2016 nondisclosure agreement, which goes against his and Cohen's previous public statements that he was completely uninvolved. It possibly did not make his legal counsel very happy.
But before all that, President Trump did acknowledge Melania's birthday on Fox and Friends. "I picked a very very special day because it's Melania's birthday," Trump said when he began his appearance. "So I said, let's do it on Melania's birthday."
When asked if he got her a birthday gift, President Trump responded, "Maybe I didn't get her so much. I'll tell you what — she has done — I got her a beautiful card. You know, I'm very busy to be running out looking for presents, OK? But I got her a beautiful card, beautiful flowers. She did a fantastic job with France."
Ah, romance.
Of course, a post on social media (or lack thereof) doesn't say everything about how someone celebrate's another's birthday, but Tiffany's post was a sweet acknowledgment of her extended family. I can only hope that Melania had a wonderful day among her loved ones.