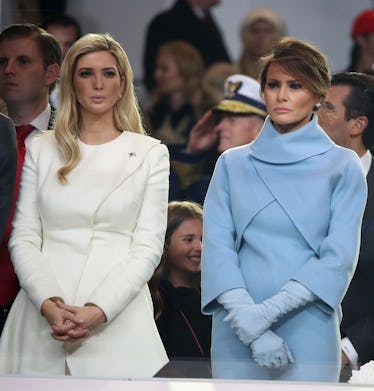 Ivanka Trump's Posts For Melania's Birthday Will Make You Feel So Awkward
Mark Wilson/Getty Images News/Getty Images
The first daughter made a point to celebrate her step-mother on the very special day of Thursday, April 26. On social media, Ivanka Trump wished Melania a happy birthday with both an Instagram post and a tweet. But though that sentiment was touching, public birthday wishes for Melania from the Trump family were a bit harder to come by.
"Happy birthday to @FLOTUS, an incredible wife, mother and First Lady!" tweeted Ivanka on Thursday. She also wished Melania a happy birthday via a post shared to her Instagram story. But the first daughter appeared to have been the only member of the family at the time to have done so — including President Donald Trump.
As of 3:30 p.m. ET, Donald Trump had not yet made the same gesture. In fact, Trump went on Fox & Friends Thursday morning, choosing the day for a rare interview with a sitting president specifically because of her birthday. But while the president wished the first lady a happy birthday on air, he stated that he had only gotten her a card and some flowers for her special day.
"You know, I'm very busy to be running out looking for presents, OK?" Trump told the Fox News hosts Thursday via phone. "But I got her a beautiful card, beautiful flowers." The interview turned into a lengthy ramble that included rants on the news media, former FBI Director James Comey, and the withdrawn nominee for VA secretary Ronny Jackson — not to mention the admission that his personal attorney Michael Cohen had in fact represented him during a deal with adult film star Stormy Daniels. (Trump had previous denied the affair and any knowledge of Cohen's $130,000 payment to Daniels.)
"For Melania's birthday," tweeted former Obama staffer Ronald Klain, "Trump gave her an interview where he admitted he had spent a night in Moscow, and that Cohen WAS his lawyer on the Stormy Daniels matter — two things previously denied."
However, the president's lack of a tweet didn't stop his kids or people who work with him from posting. Ivanka's older brother, Donald Trump Jr., also shared a birthday message for Melania on Twitter on Thursday. "Wishing you an incredible day," wrote Trump Jr.
The White House handle also tweeted out its well wishes to the FLOTUS, as did her communications director Stephanie Grisham. "Wishing the best boss (and First Lady) I could hope for the happiest birthday!" wrote Grisham.
The president did honor his wife with a birthday tweet last year, but so far, hasn't recognized the birthdays of any other family members since taking office, per the Trump Twitter Archive.
In the same time frame since his inauguration, the president has, however, wished happy birthdays via Twitter to golfer Gary Player, musician Lee Greenwood, and President Ronald Reagan. (Technically, make that two Lee Greenwoods, as he tagged the wrong one the first time.)
To be fair, the president hasn't tweeted anything on Thursday, regarding Melania or otherwise — an unusual silence from someone with such an active Twitter habit. As of writing, the president's most recent tweet remains one from Wednesday night, promoting his morning Fox & Friends interview.
During his time in office, President Barack Obama was known to tweet happy birthday wishes to his wife Michelle and vice versa.
And let's be honest, these are some pretty heart-melting pics.
But aside from the White House, Ivanka and Don Jr. seems to be the only ones so far on the Melania birthday wishes. Eric Trump was similarly silent on Twitter, as was his wife Lara and younger half-sister Tiffany.
It's not clear if there are any celebrations planned for the first lady's birthday — or if the gift-giving will extend beyond the Hallmark classics the president divulged he'd gotten for her.