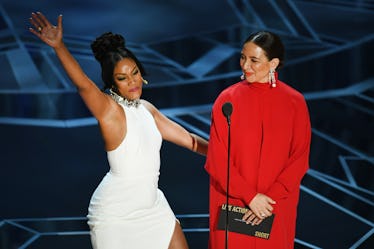 This Story About Tiffany Haddish's Oscars Dress Is Relatable AF & I Love Her For It
Kevin Winter/Getty Images Entertainment/Getty Images
If you're watching this year's Academy Awards closely, you may have noticed that something about Tiffany Haddish's white dress at the Oscars seems familiar. On Sunday night, Haddish wore an Alexander McQueen dress that she's worn twice already this awards season, proving that the third time really is a charm when it comes to couture. Haddish first wore the Alexander McQueen dress to the Girls Trip premiere in July, and she reappeared in the dress in November when she hosted Saturday Night Live. During her monologue, Haddish joked about repeating the outfit, saying,
My whole team, they told me, 'Tiffany, you cannot wear that dress on SNL. It's taboo to wear it twice.' And I said, 'I don't give a dang about no taboo. I spent a lot of money on this dress. This cost way more than my mortgage." This a Alexander McQueen, okay? This a $4,000 dress. Imma wear this dress multiple times.'
Who hasn't repeated an outfit that they feel super hot in? Especially when it's a splurge, and you really only wear it on special occasions? Haddish is right: "as long as you Febreeze it," you should be able to wear a dress as many times as you damn well please.
Haddish wore the white dress onstage while presenting with Maya Rudolph (side note: can these two host the Oscars next year?), but it wasn't her first dress of the night. Earlier in the evening, Haddish arrived wearing a beautiful cream dress with elaborate black and gold embroidery, a dress that she said has a particularly special meaning. On the red carpet, Haddish said that she wore the dress to pay homage to her father, who is originally from the African country Eritrea. The star's father died last year, but he instilled an important message in his daughter. "He said one day I would end up here and if I ever ended up at the Oscars to honor my people so I'm honoring my fellow Eritreans," she said.
Haddish's decision to wear both the white Alexander McQueen dress and the traditional Eritrean dress seemed to be a pretty last minute decision. Last week, the comedian told People that she may not have her outfit picked out, but she's positive about her necessary accessories. "The one thing I have to have in my purse on Oscar Sunday is some breath mints, because I'm definitely going to be eating," said Haddish. And she's certainly going to be drinking, as all the stars will be doing to get through the four-hour show.
Haddish's white dress made an appearance at just the right time: the middle hour of the show when viewers often get tired or lack familiarity with the more technical categories. As she so often does, Haddish, with the help of Rudolph, completely changed the show's momentum and inserted some much needed energy. The duo walked on stage holding their high heels, because they are ALL OF US. When Haddish complained that she'd been wearing her heels since early Sunday morning, Rudolph countered with an awesome joke, saying, "I've been wearing mine since the Critics' Choice Awards" in January. "Girl, my pinky toe fell off!" said Rudolph.
After explained why they opted to go shoeless, Haddish and Rudolph said that fans shouldn't worry that the Oscars had gotten "too black." They assured audience members that there are still plenty of "white people running around backstage with clipboards and headsets" calling the shots, so the growing diversity among Academy members and nominees shouldn't affect the overall status quo too much. "I'm personally not a fan of white people with clipboards because what are they writing about me?" joked Haddish before the duo presented the awards for Best Animated and Live Action Short.
After watching Haddish and Rudolph's amazing presentation tonight, I have only one question: will she wear the white dress again next year when she undoubtedly hosts the 91st Academy Awards?