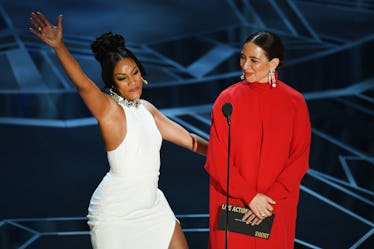 Tiffany Haddish & Maya Rudolph Dominated The Oscars & We Wish They Hosted
Kevin Winter/Getty Images Entertainment/Getty Images
Jimmy Kimmel hasn't done a bad job tonight as the host of the 90th annual Academy Awards. His bits have mostly been solid, he's thrown in a few Trump jokes, but not too many. His second time doing this show his confidence. But let's face it, he's another white male host in a sea of them. So when the stage was graced by Tiffany Haddish and Maya Rudolph at the 2018 Oscars on Sunday, March 4 with two hilarious bits that had the audience in stitches, the question at once became why weren't they hosting? Why weren't they presenting at every junction this evening?
It helped that Rudolph and Haddish, both seasoned and accomplished comedians, brought up one of the unspoken subjects hanging over the Oscars for the last few years — the #OscarsSoWhite hashtag — that was spearheaded and started by April Reign on Twitter. It took two years of the hashtag trending before it really caught on, but when it did, it made a huge impact, causing the Academy to make very long overdue changes to their very old, very white, and very staid membership.
Their ability to address the subject with humor and honesty and in a way that men like Kimmel simply can't made the audience at home yearn for what could have been, had they only been tapped to host instead.
Since they're not hosting this year in 2018, obviously the two of them should host next year. The 91st Annual Academy Awards are just around the corner in 2019, and last I checked, they hadn't hired a host yet.
For one Twitter user, the question was why the Oscars couldn't have foreseen how good they'd be together. Let's cut the Oscars a break. they're a little slow. They're still working on catching up.
Not only were people volunteering them for the Oscars, but also the Golden Globes, which were also plagued this year by self deprecating white dude host in the middle of a Time's Up uprising.
Others brought up that they would be the next decade's answer to Tina Fey and Amy Poehler, who hosted the Golden Globes so well, they've been a hard act to follow.
From the idea of the two of them hosting then sprang the idea that what Hollywood really needs to do is put them as co-stars in a movie.
Then there was one Twitter user who wanted to get Meryl Streep involved. In case you missed it on the red carpet earlier in the evening, Haddish, upon seeing Streep, threw herself in front of Streep and curtsied like she was meeting the Queen of Everything.
Now, with Streep in the front row, Haddish greeted her again and said: "Hi Meryl! I want you to be my mama one day." It was all too perfect.
Another user was aware at how Twitter can take one 30-second sound bite and blow it all out of proportion, pairing those involved together for life. Except this time, it felt kinda warranted.
Clearly, Paul Thomas Anderson needs to write whatever this is that Twitter is cooking up. That he's at the Oscars right now is merely a minor inconvenience.
It's not like Haddish doesn't see the potential. Because for all that we fete the best movies, it's really all about the cash.
Another user began simply casting them in a film to pitch themselves.
Sisters? Or Mortal enemies? How is that not sometimes one and the same anyway? Hey, Hollywood, I think I have a pitch....
One more Twitter user just appreciated that those in the audience were loving them as much as we here at home were.
And of course, you cannot talk about this segment without noting that Haddish is still wearing The Dress.
And that she created the gif of the evening. (Though Rudolph's face next to her is partly why it works so well.)
But while the Oscars might not have caught on to Haddish until all of Twitter told them to, MTV is pleased to tell you they've been there and they are ready.
Oscars, MTV Awards — really, they're practically the same show, right? That will be perfect prep for her to host in 2019.