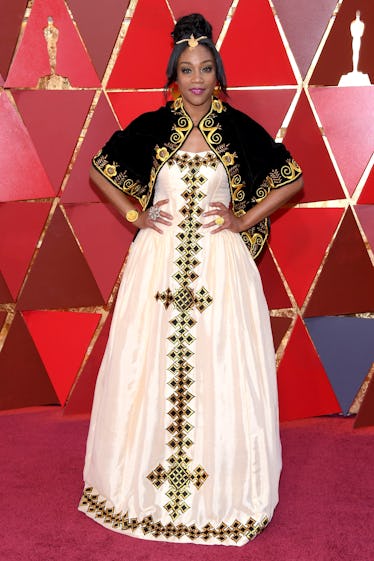 The Meaning Behind Tiffany Haddish's Oscars Look Is Actually So, So Emotional
Kevork Djansezian/Getty Images Entertainment/Getty Images
Lately, red carpet fashion has had more than one meaning, with many actresses uniting to promote both #MeToo and the Time's Up movement. But for the 2018 Oscars, some actresses chose to embrace their sentimental sides for their red carpet look. ICYMI, Girls Trip star Tiffany Haddish's 2018 Oscars look has such a beautiful story, and Twitter is loving it.
Although she didn't snag an Oscar nomination for her Girls Trip role as many fans had hoped, Haddish had already left her mark on the 90th Academy Awards before the actual Oscars rolled around. She and Andy Serkis announced the nominations on Jan. 23, with Haddish winning over plenty of new fans with her incorrect, often humorous pronunciations of nominees' names.
From that moment on, it was clear that Haddish wasn't going to let a snub ruin the rest of her awards season. Speaking to People, she mentioned that people wishing for the Academy's recognition of her only helped validate her career:
In all seriousness, their support meant the world to me. All the hard work I've done over the years? It just validated that and let me know I was on the right track. Knowing that people approve of me and wanted me to be nominated only make me want to work harder to entertain all of y'all. So I'm going to get there.
Her positive spirit appeared once again on the Oscars red carpet. Speaking to ABC co-host Michael Strahan, Haddish shared how excited she was just to be at the ceremony, noting some of the night's historic nominations. She also explained how her dress honored her late father and his Eritrean heritage.
My father is from Eritrea. He passed away last year and he said, one day, I would end up here. And if I ever ended up at the Oscars to honor my people, so I'm honoring my fellow Eritreans.
While she completely rocked the look with an air of confidence, it seems that Haddish actually had to fight for the dress to make a red carpet appearance. Speaking to The Hollywood Reporter earlier this week, Haddish clued fans in on what she'd be wearing, and revealed her stylist wanted her to wear "a hand-crafted designer dress" rather than the outfit designed by an Eritrean native. She made a similar point to the one made on Oscars night:
Now, my father died last year, and before he died he said, 'Always make sure you represent your people.' I want to wear this dress [from a designer in the African country of Eritrea] to pay homage to my father. I'm still working on this Sunday Oscar dress problem. It's going to be something, I know that much.
If you needed any further proof that Haddish knows how to get her way in important situations, this dress honoring her family is a key sign. While speaking to E! red carpet host Ryan Seacrest, she emphasized just how special the outfit was to her, telling him, "I'm proud of it!"
We all know a good outfit can make us feel fabulous AF, and in Haddish's case, it seemed that loving her dress gave her the confidence to try literally anything on the red carpet. How else would you have the guts to so bravely approach Meryl Streep on the red carpet?
I mean, if I was living my best life at the Oscars like Haddish clearly is, I'd definitely be chasing after Meryl on the red carpet too. Viewers at home loved her look, too, praising her for her act of representation.
If you can't be a nominee attending the Academy Awards, then why not show up with a smile and a dress with great meaning? Kudos to Haddish for staying true to herself and bringing a totally unique look to the Oscars red carpet.