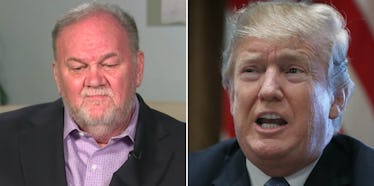 President Trump Might Meet The Queen Before Thomas Markle & Meghan's Dad Is Pissed
Win McNamee/Getty Images/YouTube
Thomas Markle still hasn't met Queen Elizabeth, Prince Harry, Duke of Sussex, or anyone in the royal family. This is, in part, because he had a heart attack that stopped him from attending Meghan Markle, Duchess of Sussex, and Prince Harry's wedding, but now he feels he's being given the silent treatment by the royals because of his interview with Good Morning Britain. Donald Trump is set to visit the UK next month, and with that comes the possibility of him meeting Queen Elizabeth. Thomas Markle's response to Donald Trump meeting the queen (maybe) shows how angry he is about the current status of his relationship with the royal family. Elite Daily reached out to the palace for confirmation that the Queen will meet with President Trump and for comment on Markle's claims, but they declined to comment.
Markle told TMZ that he feels he's been put in the "penalty box" by the royals, including his daughter, because of his 30-minute live interview with Good Morning Britain on June 18. So naturally, he gave another interview. Maybe it's just me, but doing exactly what you think people are p*ssed at you for doesn't seem to be the best way to get what you want. Markle told TMZ that he's not happy Trump might be meeting his daughter's new family before he does. "If the Queen is willing to meet our arrogant and insensitive president," he said, "she has no excuse not to meet me. I'm nowhere near as bad." It's not confirmed that Trump will be meeting with the queen when he visits the UK next month, so it seems like Markle's anger is jumping the gun a little bit.
His response is clearly coming from a place of frustration, but if he has learned anything about the royal family during his daughter's time with them, it should be that they value their privacy above all else. It's part of how they control public perception about them, and Markle has caused a bit of a PR nightmare for the royal family over the last couple of months. If Markle really wants to meet the queen before Trump does (if Trump does), he should probably float under the radar for a bit.
He did the exact opposite of floating under the radar when he did an interview with Piers Morgan and Susanna Reid on Good Morning Britain on June 18.
He gave some behind-the-scenes details about the staged photos incident he caused and heart attack that stopped him from attending the wedding. He said of the incident,
I've got a bit of a heart condition. This pushed me a little further to the point where I had heart palpitations. I had to drive at two in the morning into Rosarito to a hospital… I had a heart attack.
He continued, "At that time I started getting heart palpitations. I started getting chest pains. And I said, 'I have to cancel.' And that was because I didn't take care of the heart problem before."
Talking about the photos and his health issues was probably all well and fine, since it was his own personal experiences he was talking about, but then he added in Prince Harry and Meghan's reaction. "They were disappointed," he said. "Meghan cried — I'm sure — she did cry. They both said, 'Take care of yourself. We're really worried about you.' They said the important thing is that I get better." Considering the royals rarely talk about their personal lives, I don't imagine this interview sat well with them.
Markle talked about Prince Charles walking Meghan down the aisle, saying it was an "honor" for him. "He looked very handsome and my daughter looked beautiful with him," he said. "I was jealous. I wish I had been there. I wish it'd been me, but thank god he was there and thank him for that."
Markle also revealed in the interview that he and Prince Harry talked a bit on the phone about Brexit and Donald Trump. He didn't reveal much and none of it was damning in any way, but the royal family famously does not reveal their political opinions. So Markle talking about this kind of stuff with Prince Harry, and then telling the world about it on live TV, had to be somewhat irksome, at the very least, for Queen Elizabeth and the rest of the royal family. We'll see what happens in the coming weeks, but Thomas, bruh, if you think you're being ignored for giving interviews... maybe stop giving interviews.