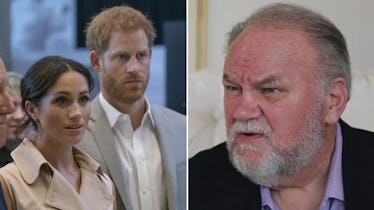 Meghan Markle's Dad Says He'll Stop Doing Interviews Under One Condition & It's So Immature
WPA Pool/Getty Images Entertainment/Getty Images & YouTube/The Sun
Thomas Markle isn't interested in quieting his conversations with the press. In fact, he claims he "isn't going anywhere." Thomas Markle's message to Meghan Markle and the royals about his public interviews is basically an ultimatum and it's not very fatherly. He claims the only thing that will stop him from speaking to the media about his daughter is if she and her new family break their silence and communicate with him. According to Markle, he hasn't been able to get a hold of the Duchess of Sussex since his tell-all on-camera interview with Piers Morgan on Good Morning Britain. Now, he's p*ssed off. Or, his feelings are hurt. Or... something. Markle's narrative wavers from missing Meghan to being angry at her for avoiding him and it's been a bit of challenge to keep up. One thing is clear, things are, well, not great.
After his appearance on Good Morning Britain, Markle sat down with The Sun for yet another paid interview. As part of that conversation, he accused his daughter of faking happiness and also blasted some royal traditions. He told The Sun, "My thing about my daughter right now is that I think she is terrified." He added, "I see it in her eyes, I see it in her face and I see it in her smile. I've seen her smile for years. I know her smile. I don't like the one I'm seeing now." Elite Daily reached out to Kensington Palace regarding Markle's claims, but they declined to comment.
After that, a royal source told Entertainment Tonight Meghan and Prince Harry, The Duke of Sussex, "haven't had any contact" with Markle as of late, and they're "frustrated he keeps speaking to the tabloids and taking payment for interviews." Elite Daily reached out to the palace for comment on the report, but they declined to comment.
What was Markle's message in response? Too bad.
In the wake of his interviews, Markle reportedly told TMZ,
I was silent for a full year and the press beat me up every day saying I was a hermit hiding in Mexico, so I gave my story. Apparently, that interview put the Royal Family in their silence mode ... so, I gave another interview to break the silence. All they have to do is speak to me.
This message is just a smidgen contradictory to what he told The Sun earlier. And, when I say a smidgen, I mean directly the opposite. In the video below, you can hear him explain,
My message [to Meghan] would be, 'I love you, I miss you, I'm sorry for anything that went wrong. And I want to be her child's grandfather. And, I want to be near them. I want to be a part of their life. I'd like to put our differences behind us, and get together. I miss you very much.'
As for Prince Harry, Markle would like to tell him, "Get over it. I'm your new father-in-law."
See what I mean? Confusing. Anyway, Markle seems optimistic regardless of all this drama, telling TMZ, "Tomorrow is my birthday, 74 years old, and I'm enjoying the fact that I can make the entire Royal Family not speak and maybe I can get a laugh out of the Duchess." Thomas, I gotta say I find that doubtful.
Elite Daily reached out to Kensington Palace for comment on Markle's interviews and claims about the duke and duchess not responding to his messages, but did not hear back by the time of publication.
Check out the entire Gen Why series and other videos on Facebook and the Bustle app across Apple TV, Roku, and Amazon Fire TV.