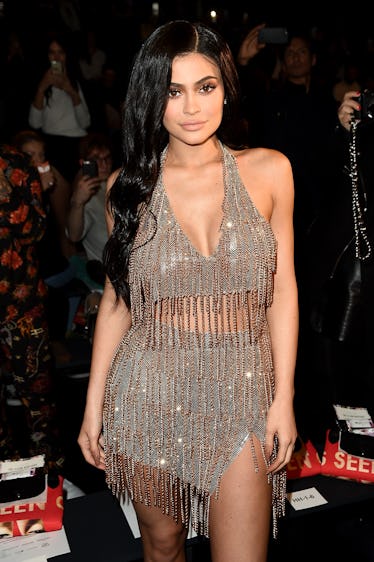 Kylie Jenner Shares A Video Of Her Postpartum Body One Month After Having Stormi
Nicholas Hunt/Getty Images Entertainment/Getty Images
Kylie Jenner gave birth to her daughter, Stormi Webster, exactly one month ago, and fans STILL can't get over the fact that her beautiful baby girl is finally here. Since then, the star has been open about her pregnancy and motherhood journey on social media. In fact, Kylie Jenner just shared her postpartum body with fans.
Jenner finally confirmed she was pregnant with her first child on Feb. 4, 2018, three days after having her baby. After months of swirling rumors and speculation, Jenner wrote a lengthy message on Instagram confirming the news to her fans:
I'm sorry for keeping you in the dark through all the assumptions. I understand you're used to me bringing you on all my journeys. My pregnancy was one I chose not to do in front of the world. I knew for myself I needed to prepare for this role of a lifetime in the most positive, stress free, and healthy way I knew how. There was no gotcha moment, no big paid reveal I had planned. I knew my baby would feel every stress and every emotion so I chose to do it this way for my little life and our happiness. Pregnancy has been the most beautiful, empowering, and life changing experience I've had in my entire life and I'm actually going to miss it. I appreciate my friends and especially my family for helping me make this special moment as private as we could. My beautiful and healthy baby girl arrived February 1st and I just couldn't wait to share this blessing. I've never felt love and happiness like this I could burst! Thank you for understanding.
She also shared a beautiful YouTube video called "To Our Daughter," in which she documented her pregnancy journey and had special people in her life (cough Jordyn Woods and Kris Jenner cough) say sweet words to her baby. It's a tearjerker for sure, so get your tissues ready.
And now it's March 1, 2018! Exactly one month after the birth of Stormi Webster. To honor the occasion, Kylie Jenner took to Snapchat to share a video of herself wearing a black crop top with the caption, "1 monthhhhhh." You can check out the video below:
Travis Scott also posted a Snapchat to honor the "one month" occasion, but his snap was of Stormi wearing an adorable "Daddy" shirt.
Isn't that so sweet?
The mother and father haven't shared a photo of their daughter's face with the public, but I'm sure she's the cutest little bundle of joy there can be. Jenner even said her daughter looks just like she did as a baby. On Feb. 21, the reality star tweeted an update about Stormi, writing, "she's good ... still staring at her all day. she looks just like me when i was a baby." I mean, every fan knows Jenner was THE cutest kid around. Like mother, like daughter, I guess!
According to reports, Kylie Jenner has been crushing this whole motherhood thing. A source told Us Weekly, "Kylie is a very hands-on mom and very involved. Stormi has been sleeping very well and a lot."
The source also says Kylie has gotten a lot of support from her mother, Kris: "Kris has been spending a lot of time at Kylie's house since she came home with Stormi. Kylie has been a natural at being a mother. However, it has been overwhelming, and Kylie has relied on Kris during these first days at home with Stormi." A momager and babysitter. Kris really can do it all!
Oh, and a special happy 1-month birthday to Stormi Webster. Feels like just yesterday you were born!