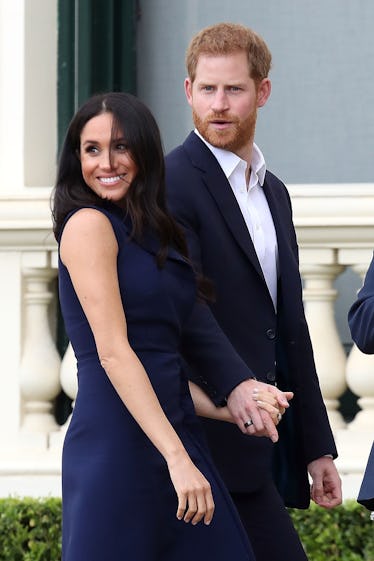 This Video Of Prince Harry Holding Meghan Markle's Hand With Both Of His Is Just Too Cute
Chris Jackson/Getty Images Entertainment/Getty Images
The Duke and Duchess of Sussex, Prince Harry and Meghan Markle are on a roll as they bounce from engagement to engagement on their first tour together as husband and wife. The two are visiting the countries Australia, New Zealand, Fiji, and Tonga and cameras are catching almost every moment. Most recently, they caught a sweet exchange between Harry and Meghan that has fans dying. There's a video of Prince Harry holding Meghan Markle's hand with both of his hands and romantic royal followers are losing it. No doubt about it, these two are the real deal.
While strolling through crowds at an appearance in Melbourne, Australia, Harry and Meghan stopped to speak with a man who looks like an official or authoritative figure. Initially, they paused just holding hands like your average couple in love, but then Harry made hearts throb everywhere when he reached behind his back to clasp Meghan's hand with his second hand. I know this sounds a little like middle school, but guess what? It is a little like middle school and I don't give one eff! What's life for if not to live vicariously through an actual prince and princess, I mean, duchess?
Fox FM released the video on Twitter on Wednesday, Oct. 17 with the caption: "When one hand isn't enough to hold the hand of your wife #RoyalVisitAustralia."
You can actually here one onlooker squee at the sight of Prince Harry grabbing Meghan's head with his other hand in that video, am I right?
Fans are going wild in the comments. One user wrote, "Prince Harry is a role model for every husband. This man bleeds romance. They are so killing me on this tour."
Another person commented, "This moment my best view of the day. It's their love for each other that keeps me following this pair. Despite what some may say this is not acting. This is 2 people who are truly in love with each other & so happy to be married."
Loads of other people simply shared gifs of people crying or passing out. You guys get it.
The truth is the limelight hasn't dimmed for one second on this pair ever since they announced their engagement in November 2017. First, the public was obsessed with learning all about Meghan and her relationship with famous Prince Harry. Then it was wedding mania. Now, the world has caught baby fever ever since Kensington Palace announced they're expecting.
On Monday, Oct. 15, Kensington Palace released the statement, "Their Royal Highnesses The Duke and Duchess of Sussex are very pleased to announce that The Duchess of Sussex is expecting a baby in the Spring of 2019." Shortly after, they tweeted, "Their Royal Highnesses have appreciated all of the support they have received from people around the world since their wedding in May and are delighted to be able to share this happy news with the public."
If Harry is this sweet with his pregnant wife, can you even imagine what he looks like as a new dad with his child?
Ugh, Harry. Adopt me or marry me, too. Whatever works best for you and Meghan. In the meantime, all of your fans and I are just over here loving to love you.