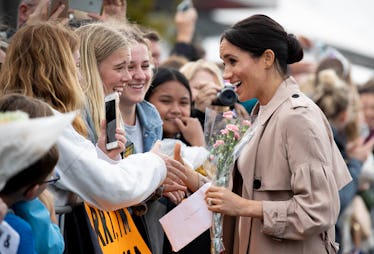 Meghan Markle Had A Moving Interaction With A Fan She Used To Message On Instagram
Pool/Getty Images Entertainment/Getty Images
If I've said it once, I've said it a million times: Meghan Markle is a national treasure that we must protect and cherish at all costs. Yes, she's the Duchess of Sussex and is married to British royalty, but it's her kindness and generosity that make me think so highly of her. She's not just your average duchess, either. First of all, she's American. But beyond that, it's apparent to everyone that she really is someone who connects with non-royalty — and this video of Meghan Markle recognizing a fan will prove it to you (and might also make you tear up, because it's so damn pure).
Here's what went down: Meghan and Prince Harry were finishing up their tour in New Zealand on Tuesday, Oct. 30, and were walking through a crowd of supporters in Viaduct Harbour in Auckland. Meghan looked fabulously pregnant in a fitted knee-length dress and trench coat, but that's not what we're here to talk about (but I had to subtly throw it in, because she looked so good, you guys).
As she was walking past the crowd of fans, though, there was one woman, in particular, holding a sign that literally made Meghan's jaw drop. And if you don't believe me when I'm emphasizing the jaw-dropping moment, check it out for yourself:
See? Told ya.
So, who in the world would make the Duchess of Sussex have a reaction like that? Well, it turns out that the woman's name is Hannah Sergel, and the 20-year-old student was a fan of Meghan's long before she became British royalty.
According to Metro UK, Sergel was holding up a sign that read, "It's Hannah from Instagram," because — get this — Meghan and Hannah used to message each other on the social media platform before Meghan had to shut down her account. The publication noted that Sergel "opened up to the former actress about her battle with mental health and Meghan sent her a video among other messages to encourage and inspire her to work hard at university."
I'm sorry, but are you kidding me?
Meghan immediately recognized Sergel, and, in the video, you can see Meghan's jaw dropping as she mouths, "Oh my god!" before walking over to Sergel to greet her and give her a hug.
"I was friends with her on Instagram before she had to deactivate her account. We used to have conversations and stuff on there," Sergel told 1 News. "She would tell me to do well at university and encourage me to be myself."
Sergel said that she was left "so shaky and flustered" after meeting Meghan, but said that the encounter "means the world to me" and that Meghan told her "thank you for getting in touch" and she "said she would read my letter that I gave her."
WE. DO. NOT. DESERVE. MEGHAN. MARKLE.
Watch the whole exchange below if you feel like crying tears of joy and happiness:
Sergel went on to tell Australian network 9Honey:
She recognized me and knew who I was so that's why she came over. She gave me a hug which was incredible – when I first saw her I cried. She's just such an incredible person and I'm just so glad she's happy with Harry.
Same here, girl. Same here.
Sergel shared her experience on Twitter, writing, "can you believe meghan markle held me with both her hands then wen in for a hug i'm still in shock":
Sergel also noted that Meghan reportedly said, "come here" before giving her a hug:
Priceless.
According to Metro UK, Sergel set up a Meghan Markle Daily Twitter account back in 2015, and it was through the fan account that Meghan sent Sergel a video showing her support and encouragement, reportedly telling Sergel, "sending you lots of love, hope I get to see you soon."
If this exchange doesn't fill your heart with love and adoration for the Duchess of Sussex, then I truly don't know what will. Let's all give a standing ovation for Meghan, who DGAF about royal protocol and goes in for the real thing when it comes to her fans. God bless.