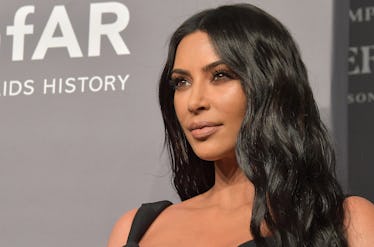 Kim K's Second Chance Speech At The White House Was So Moving
Michael Loccisano/Getty Images Entertainment/Getty Images
On June 13, Kim Kardashian made a super important appearance at the White House to help announce some game-changing news in bipartisan criminal justice reform. President Donald Trump called on Kim Kardashian to help announce the second chance proposal, a new criminal justice reform initiative aiming to build on the momentum of the First Step Act, which passed in December 2018. This video of Kim Kardashian's second chance speech at the White House is so moving.
Late last year, the First Step Act, a bipartisan prison reform bill, was signed into law. The bill aims to reduce prison overcrowding by retroactively eliminating the disparity in crack and cocaine sentences; easing requirements for mandatory minimums and giving judges more leeway in sentencing; and increasing "good time credits," which will make it easier for prisoners to shave time off their sentence with good behavior.
It's obvious why this legislation means a lot to Kardashian. She spent much of 2018 fighting for Alice Marie Johnson's release from prison. Johnson had spent more than 20 years behind bars as part of a life sentence for a non-violent drug crime. Johnson's sentence (which many found to be excessive) attracted national attention, which is how Kardashian eventually got involved. With Kardashian's help, Trump granted Johnson clemency and she was released from prison in June 2018.
Today, Trump and Kardashian announced the second chance initiative, a proposal for programming aimed at reducing prison recidivism by helping formerly incarcerated people re-enter the workforce in steady jobs.
When Kardashian approached the podium at the White House event, she gave a moving speech about how she's at a point in her life where she wants to make a real difference and prison reform is what she's passionate about. After sitting down with people in prison all over the country, she realized that there was a huge lack of support for formerly incarcerated people who come home from prison, especially in terms of securing jobs. According to a 2018 report from the Prison Policy Initiative, the unemployment rate for formerly incarcerated people is a hefty 27% — meanwhile, the unemployment rate for the general population in the United States, as of May 2019, was only 3.6%. While many formerly incarcerated people want to work, they're often disqualified from job opportunities they need, or simply don't have the resources needed to compete in the hiring stages — like money for transportation. That's why Kardashian announced a new program that would provide gift cards to formerly incarcerated persons to use for transportation as they move through the hiring process.
Check out her speech below (her remarks start around the 1:19:00 mark):
Kardashian attended the White House announcement with her two law mentors that are currently helping her study for the bar, Jessica Jackson and Erin Haney.
Shortly after Kardashian revealed to the world that she was pursuing law, she gave them a major shoutout on Instagram, writing: "I want to thank Van Jones for believing in me and introducing me to Jessica Jackson. Jessica along with Erin Haney have taken on the role of my mentors and I am forever grateful to them both putting in so much time with me, believing in me and supporting me through this journey."
Looks like they were showing that support today! Boy did Kardashian deliver, and for such an amazing cause.