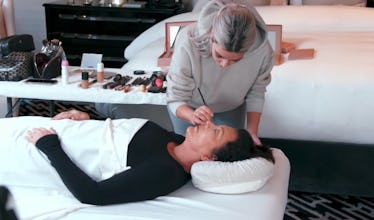 This Video Of Kim Kardashian Doing Kris Jenner's Funeral Makeup Is Morbid AF
YouTube
No one's denying Kim Kardashian is somewhat of a makeup wizard. The woman knows a thing or two when it comes to glam. Still, this video of Kim Kardashian doing Kris Jenner's funeral makeup is pretty morbid, even for a makeup extraordinaire. In a new clip for an upcoming episode of Keeping Up With The Kardashians, Kardashian jokes she wants to be a mortician and wants to practice her dead-person's-makeup skills on her mom. Kris Jenner is nothing if not a good sport, and the clip is equal parts funny and bizarre.
In her one-on-one camera interview, Kardashian explains, "I feel like I know makeup very, very well, and before I even go to a professional I wanted to test it out on my mom." Kardashian surprises Jenner when she gets out of the shower with a massage table and a pile of makeup. She explains to her mom she needs a stand-in dead body to help her practice.
Jenner jokes, "I'm not dead, I know I look pretty bad, but I just got out of the shower." She also hilariously deadpans the question, "Are you OK?" Of course, Kardashian tells her to "relax" and "just chill."
Uh-huh. Sure.
Kardashian tells cameras, "Obviously, my mom is not, like, a substitute for a dead body, but I just am so used to only doing makeup on myself. I need someone else to test it out on." It's unclear in the clip why Kardashian is so focused on mortician makeup, but it's clearly a light-hearted thing. Jenner muses, "Kim is always trying something new. But, being a mortician is interesting. Who knew that her love of makeup would take her this far."
Funnily enough, Jenner says she would like to be buried with "perfect skin, nude lips." Honestly? Same.
Truthfully, there's no denying Kim Kardashian's makeup game has put her in a totally different league of business owner and celebrity. She and her sisters practically invented contouring. (I mean, not really, but they sure made it mainstream.) Between Kardashian's cosmetics line, KKW Beauty, and her little sister Kylie Jenner's brand, Kylie Cosmetics, this famous family really does seem to have a monopoly over the entire makeup industry.
Despite their seemingly dueling success, Kardashian told E! News she and Kylie aren't competing. She said,
Makeup is both of our passion. A lot of my products, starting when we do our concealers, are going to have anti-aging components. Like, I'm focusing on skin. We don't have many of the same products. We really aren't competing.
Sure, but who is the better mortician? In the same interview with E!, Kim admits Kylie can do her own makeup better than she can, but Kim feels she's better at doing other people's makeup. Well, that's good if she wants to be a mortician.
Ah, the joys of this family. The weirdness and entertainment never stops when you're keeping up with the Kardashians.
Fans will have to tune in to E! at 9 p.m. on Sunday, Aug. 19 to see Kris Jenner's final dead look. Something tells me Kim will probably nail it.