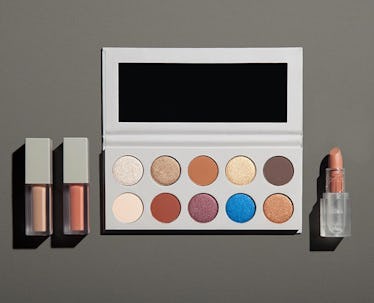 Fans Think Kim Kardashian's Latest Makeup Drop Copies Kylie Cosmetics, But Not So Fast
My world stops whenever a Kardashian or Jenner does anything besides breathe, and even then I'm captivated. Among the family's numerous business ventures, Kylie Cosmetics and KKW Beauty are perhaps the most successful. The world seems hell-bent on pitting the two against each other, though, constantly comparing KKW Beauty vs Kylie Cosmetics. It sounds as serious as a Supreme Court case, but this verdict is up to social media to decide. First, though, I'll plead my case for why they're different, and why we shouldn't even be comparing them at all.
Jenner dropped her Royal Peach Kyshadow Palette ($45; kyliecosmetics.com) in January 2017. There are 12 pans of shadow, most of which are peach and pink pigments, but there's also a royal blue shade (hence the name) meant to be used as a pop of color on your upper or lower lids. The eyeshadow has been out for over a year and, just like everything else Jenner puts her hands on, has been v successful.
Kim Kardashian West, Jenner's older sister, also now has an eyeshadow palette in her KKW Beauty range. Kardashian West worked with long-time makeup artist Mario Dedivanovic (aka Makeup By Mario) on a KKW x Mario collaboration (available Apr. 5). The collection includes two lip glosses, one lipstick, and an eyeshadow palette, which is what Twitter finds similar to Jenner's.
The Palettes In Question
As you can see, Jenner's palette is overwhelmingly peach and pink, with both matte and shimmer options, and has the blue in question as an accent color.
The KKW x Mario palette has a similar blue hue, but the rest of the palette is predominantly earth tones, offering a much more neutral array than Jenner's. I have to admit that at first glance, they do look similar, but there's more to it all than a first impression.
In Defense Of Blue
As much as I love Jenner and the look of her palette, I feel compelled to point out that she's not the first person to make a blue eyeshadow. And as shown by Kardashian West's product, she's not the last. I also want to give a quick refresher course on complimentary colors (I could use it myself). Remember the color wheel from elementary school art class? I can tell that the Kar-Jenner sisters were paying attention.
What's the best complimentary color to browns and oranges: (i.e. the best pop of color for both palettes?): Blue. It's indisputably the most fitting accent color for both beauty products.
My second point of defense is the story behind the blue in the KKW x Mario eyeshadow palette. Blue is one of the zodiac sign colors for Libra, which both Kardashian West and Dedivanoic are. Even more, Kardashian West explained what the hue means to her in an Instagram post.
This shade of blue is special to us because I would fight against color & one time when I was on my phone & not paying attention he did a blue eye & I freaked out but then looked in the mirror I loved it! We fight over which look we should do all the time but this blue eye reminds me to trust him."
Kardashian West is not shy about her love of neutrals, but Dedivanovic is a professional makeup artist and knows his stuff, including when to sneak in a new look on the reality star. The duo included this blue in their collaborative palette as an ode to the past 10 years they've worked together.
So sweet.
Dare To Not Compare
When Kardashian West first announced the launch of KKW Beauty, many were quick to question whether or not she'd step on Jenner's toes. The elder sister spoke to Women's Wear Daily to assure there was no competition between the two,
I am older than Kylie. We definitely have a different audience. We do have a lot of similar things — but we aren't doing the same products, so we won't run into that overlap. We're really cautious of that. We work together to make sure that we don't overlap like that. Ultimately, I think once it launches and people see we are a really different brand, it will be able to coexist, but be so separate.
The sisters' very different customer bases coupled with the idea of brand loyalty add up to two eyeshadow palettes being able to coexist in this world. The Kar-Jenners are first and foremost family and whether or not social media thinks it's a competition, it's not. Kardashian West and Jenner are also both female business owners and now more than ever is a time to celebrate women in business, not tear them down.
There's always room for more ladies, ladies!