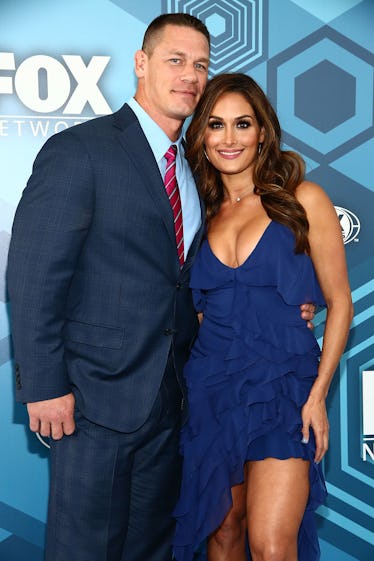 Nikki Bella & John Cena Are So, So Emotional In This Video From After Their Breakup
Astrid Stawiarz/Getty Images Entertainment/Getty Images
World, are you ready to experience a roller coaster of emotions with me? Look, I think we all know how it feels to run into your ex for the first time after a breakup: Most of the time it's slightly weird, awkward, and anxiety-inducing. Now imagine you run into the person you called off your engagement to. I truly can't express how difficult that would be, and it looks like John Cena and Nikki Bella had their first encounter since their broken-off engagement caught on tape. Let me tell you, the video of John Cena and Nikki Bella seeing each other after their breakup is so, so emotional, and I guarantee it will make you feel things.
Footage from a sneak peek of this Sunday's episode of Total Bella's shows Cena and Bella running into each other as both were backstage for WWE's Raw 25th anniversary event. In the video, we see Bella walk over to Cena and they hug, and my heart skipped a damn beat watching it all go down. It was so intimate and personal, but also maybe slightly awkward. I'm sure having the cameras rolling didn't help the situation either, but they did sign up for a reality show, so...
The video cuts to a confessional-style interview with only Bella. "John, I mean, he's like a frickin' magnet to me and it's like my heart sinks so deep into my stomach," she said. "Like, I feel like I don't even know how to breathe. [It's] as if my lungs are filled with fluid."
I totally know that feeling. It's like when I see my highly-anticipated meal finally coming out at a restaurant. The stakes are high, man.
The footage then shows Bella and Cena finally speaking. "You didn't even call or text me yesterday," Bella said to her ex-fiancé.
Cena replies, telling her, "I'm supposed to stay away from you. It's taking every fiber of my being not to text or call you. I'm just trying to do the right thing. I miss you so much."
Bella tells Cena, "I miss you too," and how has their story not become a movie yet? This is some serious Notebook-style situation, people!
Keep in mind that this entire time, Bella's twin sister, Brie, is watching it all unfold, finally going up to Cena and giving him a hug, since they probably haven't seen each other since the breakup, either. Seeing this footage just makes me want to wave my magic wand and pretend like the whole "called off engagement thing" never happened, but, non. It did, and now we've gotta deal with those consequences.
You can watch the whole scene unfold below, but I'm warning you: It may trigger some deeply-rooted emotions:
It's hard to believe that it's already been nearly two months since John Cena and Nikki Bella ended their relationship, which came just weeks before the couple was supposed to get married. In a joint statement provided to Us Weekly on April 15, the pair asked fans for privacy while dealing with this difficult decision:
While this decision was a difficult one, we continue to have a great deal of love and respect for one another. We ask that you respect our privacy during this time in our lives.
Beyond sad, but most recently, there have been reports that Nikki Bella and John Cena are back together, so I truly don't know what to think. Elite Daily reached out to both Bella and Cena's reps for comment on this report, but did not hear back by the time of publication.
People reported that a source close to the (sort of) couple said that the cancellation of their wedding made them really think their relationship over:
They both got a wake-up call once they canceled the wedding, and they both realized they could fix what was broken ... This was never really about ending their relationship — it was about calling off a wedding because something didn't feel right. It was a wedding that was entered into under false pretenses. She was pretending she was okay with not having a kid, he was pretending he absolutely couldn't and wouldn't budge on that point.
The source also explained that the two never really stopped talking after their engagement ended, and that Cena "has poured his heart out to her," and Bella "was more than ready to take him back once she heard what she needed to hear."
While we can't be 100% confident that this is fact, I just know that these two truly love each other and I hope that they can work things out.