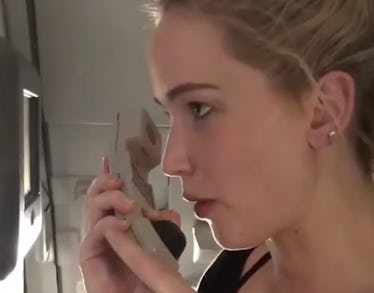 J. Law Started A Super Bowl Chant On A Plane & Everyone's Reaction Is Hilarious
Twitter
What a time to be alive. On Super Bowl Sunday, the unimaginable happened. The Philadelphia Eagles took home the championship, beating the New England Patriots in the fourth quarter. The final score was 41-33, and Tom Brady went home empty-handed. Celebrities and regular ol' civilians came together in harmony, singing out, "Fly, Eagles, fly!" Actress Jennifer Lawrence added her voice to the chorus, cheering on her team. In fact, she shouted it out on an airplane. This video of Jennifer Lawrence's Super Bowl chant on a commercial flight is one of the best parts of this year's Super Bowl, second only to the sad Tom Brady memes.
It makes sense for the Eagles to be J. Law's team, especially considering her award-winning film Silver Linings Playbook took place in the City of Brotherly Love. In fact, the plot-line surrounded an entire family that was obsessed with the professional football team. I heard Lawrence's co-star Bradley Cooper was actually at the Super Bowl stadium rooting the birds on. And by "I heard," I mean I watched him lose his sh*t all night next to Eagles' owner, Jeffrey Lurie. W magazine even wrote a headline reading "Bradley Cooper is Having More Fun at the Super Bowl Than Anyone Else."
Sure, Cooper might have had the most fun at the Super Bowl, but Lawrence was having the most fun on her plane ride.
The actress was on a domestic Delta flight Sunday morning flying from New Orleans to Los Angeles when she decided to get her fellow passengers in the sportsmanship spirit. My guess is she was allowed to pick up the loudspeaker because she's Jennifer Freaking Lawrence, but the video made it look like she did it on impulse.
In the video, we see Lawrence meticulously pick up the flight attendant's phone and deliver the following message:
Everybody, this is not the pilot speaking. This is Jennifer Lawrence. It's February 4, it's Super Bowl Sunday. We all know what that means. Can I please just get a 'fly, Eagles, fly'? Fly, Eagles, fly! Fly, Eagles fly!
Lawrence got the chant out four times before a flight attendant "stopped her." She also snuck in my favorite quote of all time from the movie Bridesmaids, exclaiming, "There's a colonial woman on the plane."
You guys know the scene.
My favorite part about J. Law's video is the mixed reaction from her fellow travelers. Most of the people in first class (Can anyone confirm that's what first class looks like???) aren't impressed. One woman is clearly flat-out OVER IT. From the way back of the plane, you can just make out a few people joining in Lawrence's chant, but mostly, it's just the Oscar-winning actress flying solo. (Get it? Flying solo like a bird? Like an eagle? JOURNALISM.)
Still, her enthusiasm worked. That Delta flight created enough good karma for the Eagles to win, creating one of my favorite underdog stories. Cooper is probably still recovering from his victory.
Lawrence wasn't the only person who pulled a stunt like this, either. Pink's little brother did the exact same thing on his way to watch his older sister sing the National Anthem. However, instead of chanting, he opted to sing the Eagles' fight song to his airplane.
Pink captioned her video,
Yep. That's my brother. Singing the Eagles fight song on his flight to Super Bowl. He's not messing around people.
We aren't sure what Lawrence was doing in New Orleans, but we do know she has a new movie coming out that looks seriously wild. In keeping with the bird theme, J. Law's new movie is called Sparrow.
What's with this woman and birds of prey, you guys?
Check out the entire Gen Why series and other videos on Facebook and the Bustle app across Apple TV, Roku, and Amazon Fire TV.